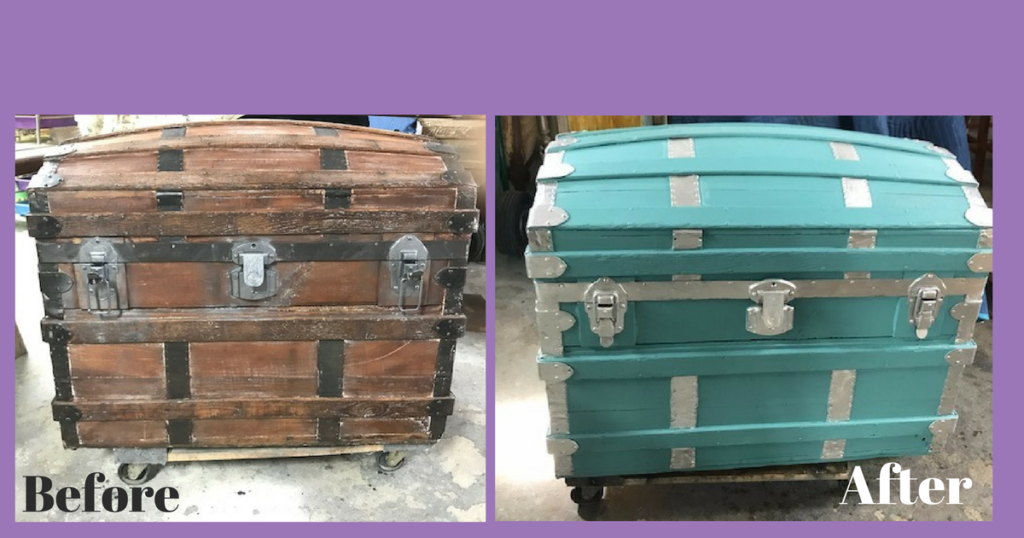 Do you dream of a room filled with colorful furniture or want to try something a dramatic new look with your old furniture? Or are you ready to repurpose your old and antique furniture with a fresh new coat of paint or stain? Let us here at Foxwood Furniture Restorations help give your antique furniture a modern new look with professional furniture refinishing.
This old humpback antique chest is an exquisite example of how professional refinishing can change the look of your most treasured pieces of furniture. Also, your antique will take on a new unique personality of its own, like this neutral gray, or spice it up with a new bright green-blue.  Additionally adding or changing the hardware can transform your favorite old pieces of furniture into chic and unique pieces.
Refinishing Is A Good Choice
A broken and marred piece of furniture doesn't have to be thrown away! We here at Foxwood Furniture can give your damaged furniture a new lease on life with the use of paint and highly skilled art techniques. After total finish removal, sanding and simple repair and paint can breathe new life into your 20 -30-year-old furniture pieces.
Foxwood Restoration will professionally refinish your furniture to the desired look you want. Just bring a sample color from your paint store and leave the rest to us. Come consult with our experienced and trained artists for your best result! Furthermore, they have great ideas that can help you determine the best looks for you to choose from.  Or bring us a picture from your favorite home design magazine and we will achieve the desired look you are looking for. We can mute, distress, or even age the patina of the antique for a very deep-textured new look to your furniture.
What Paint Finishes Should I Try?
If you're somewhere between safe and daring but want to try something new with your old furniture pieces, we suggest starting with a subdued color to ease your way into the world of painted furniture. Muted mid-tones can counterbalance the busyness of modern life and make any room into an oasis of relaxation. In addition, if you're feeling more spry and funky try purples, browns, blues, or yellows to give your furniture the pop it needs. We also have new colors such as whole grain, fountain foam, fuzzy peach April rain poetry in motion, winter moss, rocky shelter, misty harbor vintage, and stormy day! If you have a paint sample, we'll make your furniture match it!
Foxwood will create the color and look you are looking for and give your antique the love it needs. Also, we'll give your old family heirlooms the loving touch be it with repair, modification, or strip work. Finally,  "Fall in Love with Your Furniture Again" At Foxwood Restorations contact us today!
Posted In: Antique Furniture Restoration, Refinishing
Tags: antique furniture restoration, furniture stripping and refinishing, refinishing furniture, Refinishing wood furniture