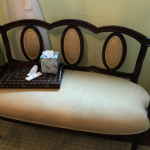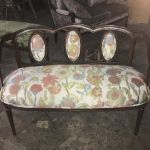 We'd like to share a little story on a recent furniture restoration project that we did for this very nice couple that moved to Ann Arbor. As you may know, Ann Arbor is a close-knit community with some beautiful older homes. Valerie and her husband had lived in the same spacious home for over 30 years. But as they grew older, they realized that it was time to retire and downsize their home. They wanted to look for a smaller home in the city of Ann Arbor, a city close to each of their hearts. Valerie and her husband met at the University of Michigan in Ann Arbor years ago. And so, they decided to move back to the city that they held such warm feelings for.
Moving to Ann Arbor
 Valerie had a favorite designer that she had worked on and off with for many years.  She asked her designer to help her find a new home in Ann Arbor that would make her and her husband feel at home. This was not an easy task as they had lived in the same house for such a long time. After a long time of searching, Valerie and her husband found a house that caught their fancy. The quaint house was a vintage Ann Arbor style made of brick that had a stately curb appeal and it was in a well-established neighborhood. However, the large backyard was overgrown and the house had not been updated for over 20 years!
Victorian Style OttomanThe designer had a lot of work to do to get the home how they knew Valerie and her husband wanted it. Walls were moved, bathrooms were gutted and a brand-new kitchen was remodeled to blend into the family room. After many months of construction, the house was transformed and ready to move into.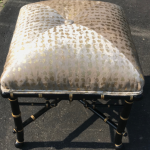 Then came the need for furniture. Valerie and her husband had become very comfortable with their older, more high-quality furniture. It was the kind of furniture that was built to last with comfort and quality construction. Also, they really enjoyed the sit of the chairs, the back support, and the sizing of the furniture. But, the furniture didn't match the design of their new home. 
Taking Their Furniture to Foxwood
And so, the decision was made to get all of their favorite furniture reupholstered and delivered to their new home. The designer brought fabrics to Valerie that they knew that she would love as well as match the décor of drapes, rugs, and the new colors in the newly remodeled home. Once Valerie chose her fabrics, the designer took her selections to Foxwood Furniture Restorations near Ann Arbor (us). They needed a local furniture restoration & upholstery company that they could go to for high-quality work and timely delivery.
All of the furniture was picked up by our considerate and skilled pick-up and delivery service. The chairs were recovered with care and experienced workmanship.  Seat cushions and back supports were made more firm and full or replaced when necessary. All of the inner springs were adjusted for tightness and any repairs necessary were done with old-world craftsmanship. The furniture was then stored in Foxwood's temperature-controlled facility, protected and wrapped.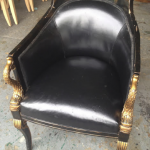 When their Ann Arbor home was complete, the chairs were delivered to Valerie's new home in Ann Arbor to be placed exactly where the designer told them to be placed. The newly upholstered furniture was the final addition to the beautiful remodeled Ann Arbor heritage home. The furniture provided the home with warmth and character. All of us at Foxwood are proud to be a part of their journey.
Upholstery & Furniture Restoration Services in Ann Arbor
Foxwood Restoration offers a full line of fabrics,  re-upholstery services,  furniture repairs, full wood restoration and refinishing. Also, we now have a pick-up and delivery service that works to your schedule! We will transport your furniture because we understand that YOU are busy! With professionalism and care, we will take care of your precious furniture. In Ann Arbor, Michigan please contact us or call our local number at: 734-237-9099