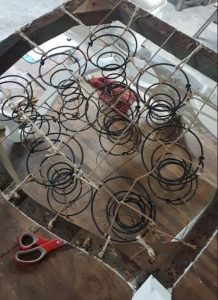 Looking for spring and re-upholstery work in Ann Arbor? That is what Samantha and her three children were looking for when they came to Foxwood. Samantha came in with a chair with outdated green vinyl. Although the chair was structurally sound and joints were sturdy, the springs and cushioning need a lot of attention. So, how does Foxwood handle springs and cushioning for older chairs?
Spring and Re-Upholstery Work
For older chairs, the springs sticking out from the bottom is not new. Over time, the ties uphold the strings give way. Furthermore, upholstery webbing will disappear. As a result, older chairs need extra care when fixing. The first step of spring work is removing the upholstery webbing, which can be salvaged depending on its condition. Afterward, you need the strings (preferably twine) to the chair. You can secure it by running it through the initial nail or staple for string and then nailing or stapling a new one on. You repeat the process with a minimum of 4 strings, wrapping around the strings and making sure it is tightly secured. After re-tying the strings, you install the upholstery webbing by stapling or nailing the fabric to the frame. Finally, your spring work is done!
Furniture reupholstery always you to take outdated or damaged upholstery with a new one. During the re-upholstery process, the cushion foam is replaced and the new fabric is selected for the furniture. This gives antique and older furniture an updated and new look. For Samantha, that meant taking off the outdated green vinyl for a fabric of her choosing!
Restoration Services at Foxwood Furniture Restorations
Foxwood's spring and re-upholstery work in Ann Arbor are the best in the area. Whether you are looking for chair restoration like Samantha or other services and repairs, Foxwood covers them all! Testimonials agree that Foxwood's services are the best in Ann Arbor. So, contact us or stop by our facility to schedule your furniture restoration today!