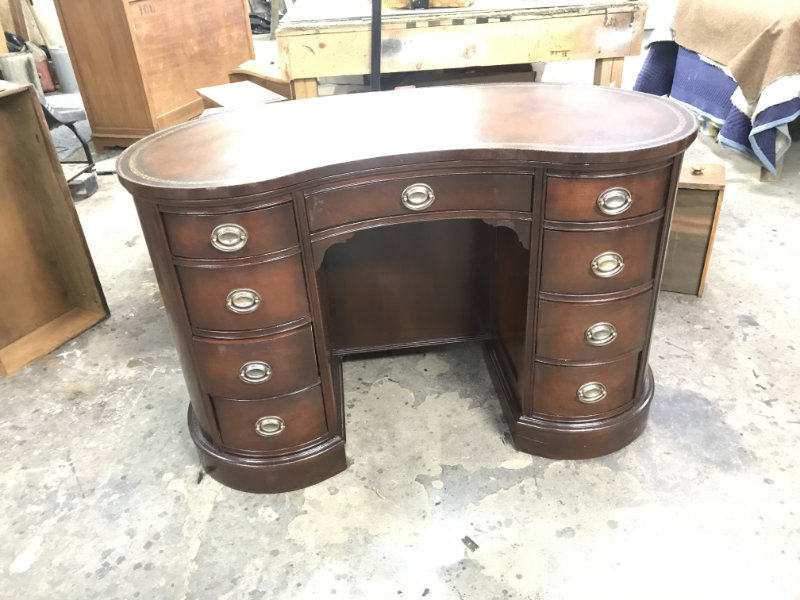 Suzy of Ann Arbor had a leather top kidney shape desk that belonged to her grandfather. The desk was full of nicks and scratches from old age as well. In addition, the leather top was nicked up and damaged. Also, we assessed the damage and put a restoration plan in place.
Leather Top Desks Restoration
Leather tops of antique furniture need special attention as they cannot be replaced. The experts at Foxwood Furniture  Restorations use a combination of color replacement and artwork to restore a leather top. Antiques such as leather top desks are in safe professional hands at Foxwood Furniture Restoration.
We take the time to fully restore your piece to its former glory. Also, we make sure each piece is up to our highest standards before contacting the client. In the Ann Arbor or Brighton area, the best furniture repair is at Foxwood. iN addition to desks, we restore chairs, dressers, couches, and just about any type of furniture.
Furthermore, we can help replace just about any type of material for your furniture. From patterns to stained wood we can find the materials needed to complete the restoration. If you would like to visit our facility we are located in Brighton. Also, while located in Brighton, we service all the surrounding cities as well as Ann Arbor.
Grandma and Grandpa's furniture are given the love and respect they deserve at Foxwood Furniture Restoration. Bring all of your furniture repairs, chair Caneing, and re-upholstery work, and refinishing to Foxwood Furniture Restoration. Finally, call us today at Brighton: 810-220-0123 or Ann Arbor: 734-237-9099.