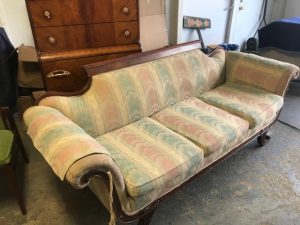 Recently, we helped a local young couple restore a piece of antique furniture that has been passed through their family for generations. Kristen is a medical student at Wayne State University in Detroit and Dan is a regional sales manager from Grosse Pointe. The soon-to-be-married couple wanted to put Dan's great-grandfather's couch in the living room of their new home in Birmingham. 
Furniture Reupholstery in Birmingham
The couch is a circa 1850s empire-style sofa with beautiful soft lines. However, the dated upholstery design of the couch didn't fit with the design of their new home. So, Kristen and Dan decided to have the couch re-upholstered by Foxwood Furniture Restorations! The couple has grandparents in Ann Arbor, MI that loved the idea of reupholstering the couch to its original glory and encouraged the repairs. 
When it came to picking a new fabric, Kristen and Dan selected a high-end royal green velvet fabric. As you can see, the fabric gives the old couch a luxurious new look. There is truly nothing quite like real velvet. The couch also needed a few repairs. The experienced contractors at Foxwood Restoration repaired an unstable wooden leg and did color replacement on the wood frame of the couch. Now, the antique couch is as good as new!
Furniture Reupholstery and Restoration in Southeast Michigan
Here at Foxwood, we have decades of experience when it comes to furniture reupholstery in Birmingham. We have serviced clients all over Southeast Michigan in cities such as Ann Arbor, Howell, Brighton, Detroit, and more! When it comes to restoring or repairing an important familial antique, Foxwood is the best choice for you! If you have a favorite piece of furniture in need of repair, bring it into Foxwood! Contact us at 810-220-0123 or submit a quote through our website for an estimate today!