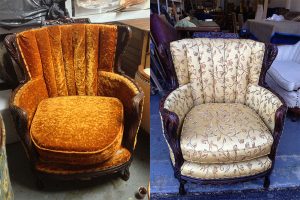 Many of us have that old piece of furniture that needs to be replaced. That old table or sofa has seen better days and is now taking up space. Thankfully, you don't have to replace it! Bring your old furniture to Foxwood for furniture restoration or repair and reap the benefits for years to come!
Restoring Over Buying
There are many advantages to restoring furniture over buying new furniture. Old furniture was made to last, unlike some of the Swedish cheap furniture that you find today. Furniture just isn't made to the high quality it used to be. By repairing and restoring an old piece, you can add years to the use of the piece. 
Some pieces of furniture have history and sentimental value that you won't find in a new piece. Whether that be your grandmother's old rocking chair or the cabinet you received as a wedding gift, some things cannot be replaced. Instead of losing these memories, you can bring your piece to Foxwood and have it restored to its former glory.
Disposing of your furniture whenever it loses its charm or function is wasteful. When disposing of an object that can be salvaged, you enlarge your carbon footprint and risk being environmentally harmful. You can avoid negatively affecting the environment and be eco-friendly by restoring your piece. We can restore your furniture and refresh the style by staining or reupholstery. 
Furniture Restoration near Ann Arbor
Here at Foxwood Restorations, we have been repairing and restoring furniture in and around Ann Arbor for over 30 years. With years of experience in helping people repair and reface their old furniture, we are the best choice for any furniture restoration project. Furthermore, we offer a full line of fabrics for our reupholstery services and a large selection of stains for wood restoration and refinishing. I think we've made the case for restoring furniture over buying so Contact us today online or call our local Ann Arbor number at 734-237-9099.