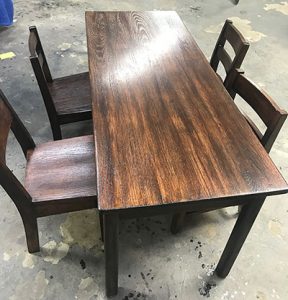 When it comes to searching for wood furniture repair near me in Novi, the clear choice is Foxwood Restorations. We have been providing furniture repair services to the Novi area for over 30 years. With extensive experience and knowledge, we are the premier furniture restoration shop in Michigan.
The Value Of Wood Furniture Repair
A good wood furniture set can cost quite a bit of money but will last you for decades. If your wood furniture such as chairs, desks, tables, or other items are looking worse for wear bring them to Foxwood Restorations. Located just North of Novi, we are easy to find and always have competitive prices.
No matter if your furniture just needs restaining or a complete overhaul, we can handle it. In addition, our experienced staff will work with you to help decide the best stain or look for your furniture. What of the great benefits of wood furniture are strength and durability. Other great perks of wood furniture are ease of maintenance and value.
Look and Feel Of Wood Furniture
The look and feel of your wood furniture add a certain essence to the room.  IF you have a beloved wood rocking chair that is need of repair, bring it to Foxwood Restorations. We can repair, sand, and stain your chair back to its original glory. We can also re-weave your chairs as well. Also, we provide cane services for wooden chairs as well. Over the years we have repaired burned or damaged wood furniture, we have seen it all.
When it comes to wooden quality furniture, do not replace it with cheap Ikea furniture, restore your furniture. Let us make your solid wooden kitchen set look like it was meant to. Finally, give us a call at 810-220-0123 or fill out our estimate form, and see what Foxwood Furniture can do for you!