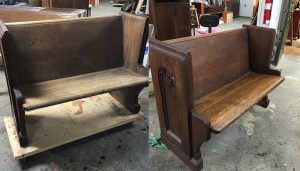 Lansing, Michigan is a beautiful city full of rich history. It became the capital of Michigan, formerly in Detroit, in 1847 due to the need to develop the state's western portion and be more centralized and protected against hostile British troops.
Even today there are several historical monuments, including old fashioned colonials, littered throughout the state capital. With old houses comes antique furniture. And even antique furniture falls into disrepair over time. It's time to get yours restored today!
Why should you restore your furniture?
Antique furniture has an allure about it that modern furniture lacks. It holds a history that cannot be replaced. Also, antique furniture from back in the day is made better than today's furniture. Manufacturers back then produced quality pieces with durable resources. It has a quality that you won't find in build-your-own furniture from Ikea. Older furniture can be restored and should not be thrown away once it starts to show its age.
Foxwood Restoration provides antique furniture repair and restoration services. Whether the damage is from fire or water damage, or disrepair that comes with age, we can fix it! We restore everything from office furniture to bedroom sets to armoires. Furthermore, we offer antique stripping and refinishing, as well as faux and custom painting of furniture, hand, and machine cane replacement, rush and reweaving of chairs, and our expert staff can repair, refinish, and restore all of your damaged furniture. If you want to take your antique piece back to its former glory, Foxwood Restoration is the go to. The governor wants to fix the roads, we want to fix the furniture! When it comes to furniture repair restoration, the best in the state of Michigan is Foxwood Restorations. 
Lansing to Brighton Contact Us Today
Come in to visit our large showroom today! We are right off of East Grand River Ave, located at 9894 Weber St, Brighton, MI 48116.  Finally, you can contact us at 810-220-0123 or use our easy estimate form. We can't wait to hear from you!