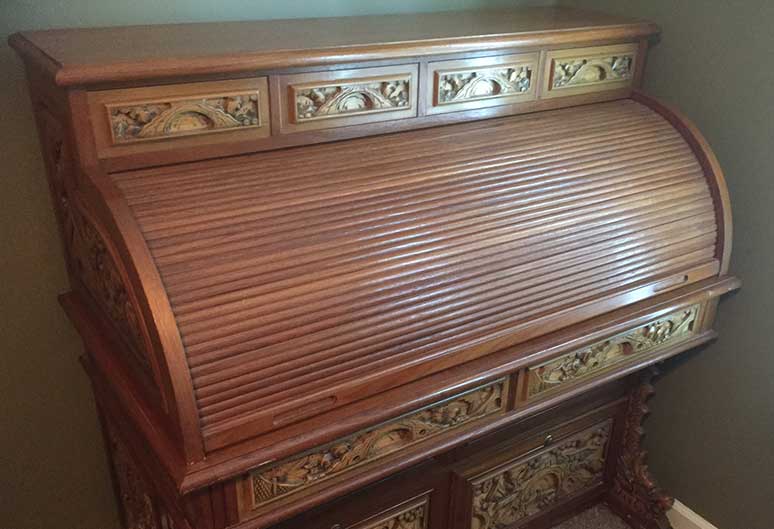 There are hundreds of different types of antique furniture. At Foxwood Restorations our professional and educated craftsmen work closely with you to restore your piece of furniture to its original state of integrity and to your personal liking. In addition, we have 30 years of experience working on your wood furniture pieces with an extensive profile of unique antique pieces of furniture.
Foxwood Restorations in Brighton Michigan we repair, restore and reupholster ALL kinds of Antique Furniture.
We specialize in restoring many different types of antique furniture pieces such as:
Reupholstering your furniture is a great way to give it a new look and restore it to its former glory. Also, when we reupholster a piece, you can choose a new design or we can try to match the original as best we can it is up to you. For wood pieces, we strip and sand the wood followed by a stain. In addition, when it comes to staining the wood you have a few choices as well. One option is the Milk Paint for the wood. Milk Paint mimics the look of the original stain of the piece.
Another option for wood furniture is tinted stains. Tinted stains you can add a little color to your wood furniture. Also, we have a variety of tinted stains to choose from such as green, grey, blue, or a dark wash with distressing options. The tinted stain is an easy way to add some distinct color to your wood furniture.
Furthermore, we treat your piece of furniture like we would our own, please contact us for other types of antique-style furniture to restore or repair. Finally. with extreme professionalism, we honor and appreciate the opportunity to bring back to life your furniture piece.