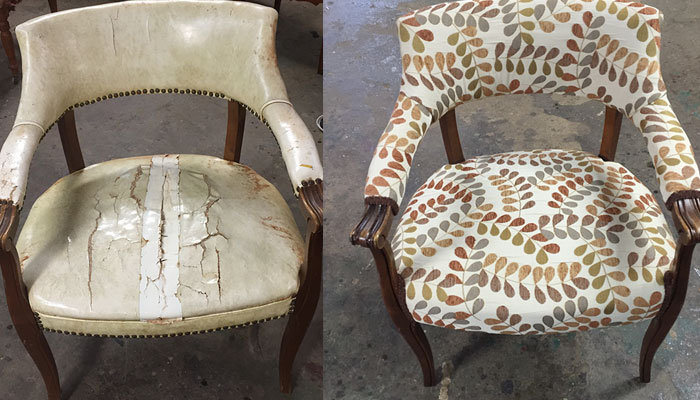 When it comes to updating your home, your old outdated furniture doesn't have to go in the trash. If you've been thinking about getting newly updated furniture, but can't seem to part with your family furniture pieces, we can help.
Updating your upholstery fabric and cushion foam can give your furniture a new and trendy look. In addition, putting on new designer upholstery fabric or even just a new color of upholstery fabric can make your old furniture look updated and new.
Do You Need Reupholstery Service?
Foxwood Restoration is a well-established custom upholstery and furniture repair shop nestled in the city of Brighton, Michigan. Also, we take pride in our furniture restoration and on having the largest, most beautiful selection of fabrics. Also, we have worked hard for our reputation as an excellent locally owned upholstery services in Oakland and Livingston counties.
No matter what your taste or budget, we can find an upholstery fabric that'll make your antiques seem like new. We're dedicated to hunting down a fabric you have seen in a magazine or help capture a look you have in your imagination. Your furniture a colonial, classic or contemporary look you've always wanted! We have accounts with all the reputable fabric companies and all our fabrics are delivered to us directly from the mill.
We will gladly bring a selection of fabrics to you or you are welcome to come to our showroom to see our full selection and some works in progress. Our showroom is open  5 days a week Mon-Sat 12 p.m.- 5 p.m.
A full list of our services:
Respringing and frame tightening
Spring repair
Press cane chair caning
Chair repair
Pet damage repair
Chair part replacement
The Key To Reupholstery Service
Reupholstering is a process in which you take older more worn-out furniture and replace the upholstery once all the repairs are made.  In addition, by choosing the reupholstering option you are keeping it out of landfills and being more eco-friendly.  Also, you can reupholster many furniture items such as chairs, sofas, stools, and more. There are many factors to consider to reupholster. Factors such as age, build quality, and importance of the piece.
At Foxwood Restorations, our experts can help you determine exactly what you need to breathe life back into your furniture. Also, all our furniture services under one large roof and we are fully insured and bonded. Finally, so why wait to update your furniture? Contact us today!