An antique roll-top desk is worth repairing and preserving. When restored and polished, they give an office a rich and comforting feel. Often times, the tambour of the desk is in bad shape and needs to be re-glued and restored. The proper tambour and cloth must be used to repair the back of the tambour. Human hands cannot tear the natural cotton twill canvas that must be fitted to the back of a tambour. Each cross piece of the roll-top must be put back together like a delicate puzzle to restore the antique desk back to its lovely antique patina and quality.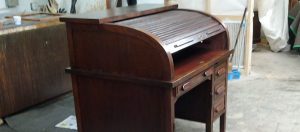 Replacing Roll-Top Desk Cloth
Roll-top desks feature a flexible tambour which is usually made from several wooden slats. When pushed or pulled, this flexible door is able to glide along the tracks to open or close the desk. Over time, the backing material that's used may wear, tear, or decay, resulting in a roll-top door that doesn't function properly anymore. Luckily, replacing a roll-top desk cloth with a new backing is possible and it can be glued onto the slats after removing the assembly from the desk. As a result, you will have a fully functional roll-top.
Foxwood Restores Roll-Top Desks
Foxwood Restoration is a full service refinishing, repair and re-upholstery company. All furniture is hand stripped, repaired, custom finished and restored. We refinish mantels, doors, bedroom sets, dining room sets, antique roll-top desks, occasional tables, upholstered chairs, couches, side chairs and cane chairs. All of this is done in our fully equipped workshop. We are fully insured and have spent over 25 years serving all of Livingston and Oakland Counties.
Come and visit our showroom, full of quality upholstery fabrics at Foxwood Restoration!  Everything that you need to revive your furniture is right here under one large facility. We also include pick up and delivery! What can get better than that?!
If your searching for "who restores roll-top desks in Brighton, Howell or Commerce Twp.," give us a call or contact us today. We appreciate your patronage.
Posted In: Antique Furniture Repairs, Antique Furniture Restoration, Roll-Top Desk
Tags: antique desk restoration, Roll-Top Desk Repair, Roll-Top Desk Reupholstery, Roll-top desk Tambour