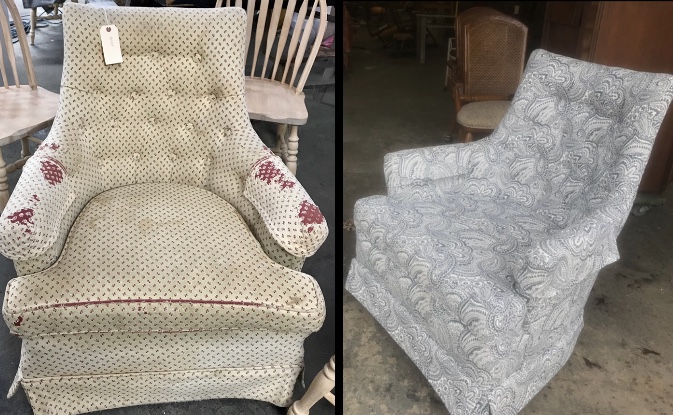 Over the last couple of years, the people of Ann Arbor are spending a lot more time with their furniture. We are all starting to see issues with our furniture that we didn't pay attention to when we were not home all the time.
That eyesore broken chair in the corner that no one uses? We can help repair it and make it look its best! That threadbare armchair with the stains on the seat that needs a new look? Foxwood can reupholster it with new fabric and stuffing to make it look brand new. Is that wood antique table tired-looking? We can restore it to bring it back to its old patina and beautiful original look.
Our Furniture Repair Services in Brighton

Here at Foxwood, we have been servicing the people of Brighton for years. An example of this is Dale. Dale is a resident in Brighton, Michigan and he brought in his grandmother's antique rocking chair. The insides of the chair had become flat which caused the chair to lose its beauty and support. Also, the circa "1950" chair was ready for the burn pile. But the chair was very sentimental to Dale as he remembered hours of sitting on his grandma's lap in that chair. He was willing to do anything to save the chair that he remembered in his memories.  
Dale remembered hearing about Foxwood and decided to take a chance. He contacted us and within a few days, Dale was able to look at all of the hundreds of fabrics that Foxwood has online and selected about a dozen of his favorites that were sent to his home. After matching a few of the fabrics to his other furniture, he picked his favorite and the reupholstery of his chair was started. Foxwood finished his chair in about 30 days and Dale was able to bring it home. Now, Dale is happy sitting in and enjoying his grandmother's reupholstered rocking chair that will last from generation to generation.
Repair Your Furniture Instead of Replacing It
We spend a lot of time with our furniture and it does get worn and break. With prices rising on materials it probably would be better to repair your furniture than replace it. Be sure to avail yourself of Foxwood's furniture repair services. Whether you live in Ann Arbor or closer to Brighton, we do a lot of service up and down the U.S. 23 corridor. Foxwood Furniture Restoration is open for curbside service from 12 PM to 5 PM Monday through Friday, Saturday is by appointment only. Finally, for more information, please contact us today!