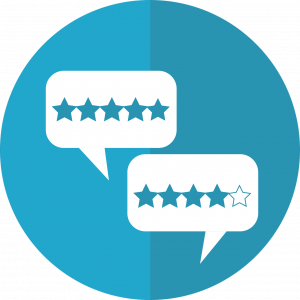 Do you know how reviews help small businesses? Most of the time, people do not take the time to review a business. The people who tend to review are passionate about the service, regardless if it was good or bad. However, people underestimate the power of online reviews. After all, these reviews can make or break a business!
Power of A Review
A review provides potential customers insight into a business through someone's firsthand experience. But how important are these reviews to shoppers? According to The Importance of Online Customer Reviews, 90% of customers read online reviews before visiting a business. A good portion of these people trusts online reviews at the same level as a personal recommendation. However, the effects of these reviews are immense. For example, customers are likely to spend 31% more if a business has "excellent" reviews. Furthermore, 72% of customers are more likely to trust a local business with positive reviews.
However, negative reviews have the same power. If a business has one negative review, it can cause the business to lose 30 potential customers. Furthermore, 86% of customers will hesitate to buy or get a service from a store with negative online reviews. As a result, reviews can be very powerful. Reviews provide "word-of-mouth" referrals that can help your local businesses. But where can you leave a review?
Where to Leave Reviews
So, where can you leave a review for your favorite small business? While leaving a review is essential, where you post the reviews is also important. You want people to be able to read about your experience and opinion. Here are a few places where you should be posting your review:
These are the best places to put your review to help your favorite small, local business like Foxwood Restorations.
Help Foxwood Restoration
For over 25 years, Foxwood has specialized in furniture restorations and repairs through our amazing services. Our goal is to restore your antique furniture back to its original patina and integrity of the piece. Foxwood has a staff of seasoned professionals that specialize in restoring damaged or antique furniture to its full glory. Customers are always satisfied with Foxwood's professionalism and expertise! That's why we want you to share your own experience with our company! Go to any of the recommended review locations listed above and contact us for any restoration and repair services that you may need!