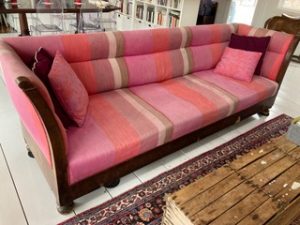 What makes a piece of furniture valuable? Recently, Foxwood restored a beautiful Italian heirloom family couch at our Ann Arbor location. While furniture can depreciate over time, its value can vary depending on various factors. So, what makes furniture valuable?
Generational Furniture Value
Age tends to depreciate the value of items. Most of the time, this applies to furniture. However, there are some exceptions. As a rule of thumb, any piece of furniture that passes through two generations in fair condition starts increasing in value. What defines a generation? For Foxwood, a generation is loosely defined as 20 to 25 years. So, if a piece of furniture was made in the seventies or eighties, it started increasing in value in 2020!  This value is also because furniture from that time period is of better quality than anything made today.
High Quality and Other Factors
It might be hard to believe, but most furniture today is not made to a high standard. At least, not compared to a piece of furniture made 20 years ago. In fact, furniture made over 20 years ago is far superior to the furniture that you can find in the store today. Furniture can have tremendous value based on its materials, age, and creator. Furthermore, value can vary depending on the quantity and availability of a piece. Just like supply and demand, if there is less available then it's going to be more valuable. It is also important to know that retail value does not translate as auction value. So, what makes a piece of furniture valuable is reliant on many factors. However, without a doubt, any piece of furniture over 20 years old is worth restoring!
Furniture Restoration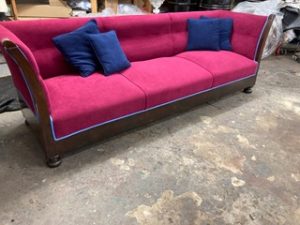 Since 1994, Foxwood Furniture Restoration has specialized in furniture restoration including refinishing, repairs, stripping, sanding, and upholstery. We have a variety of services including smoke, water, and fire-damaged furniture repair! Foxwood has a professional and experienced team that is ready to tackle any job! So, contact Foxwood today for your furniture repairs and restorations.
---
Check out our blog for more interesting articles!