Pieces of antique furniture face a lot through the years, especially cabinetry. The handles break, the wood chips, and the color fades. But, there are some do-it-yourself steps to take to restore your antique china cabinet to its former glory. 
DIY Tips to Restore Your China Cabinet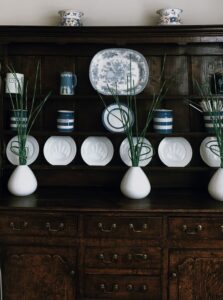 Know what you want your finished piece to look like. Before you even consider sanding the wood to refinish or paint, you should have an idea of what you want your finished china cabinet to look like. Make sure you have a varnish or color in mind before you dive into the project.
Clean the furniture thoroughly. A loose piece of lint or a small cobweb could ruin the piece if it dries to the wood with the varnish. Before you start sanding, clean the entire piece to get rid of any dust, pet hairs, and cobwebs. This will make the restoration much simpler.
Repair any broken parts. You cannot continue with your restoration if you have broken handles, chipped wood, or other issues because they will stick out of a restored piece. Make sure you check for any issues before you continue.
Take off the old finish and sand the wood. Removing the finish evenly is the most important part as this makes or breaks a restoration. By sanding the wood, you can ensure that all of the past finish is off and the wood is ready to paint or refinish. 
Get Your Furniture Restored by Foxwood Restorations!
If you don't have the time or experience to restore your antique china cabinet, let us do it for you! We have 30 years of experience working on wood and upholstered antique furniture. Contact us today and request a free quote on our restoration services! We service people in Brighton, Ann Arbor, and the rest of Southeast Michigan!