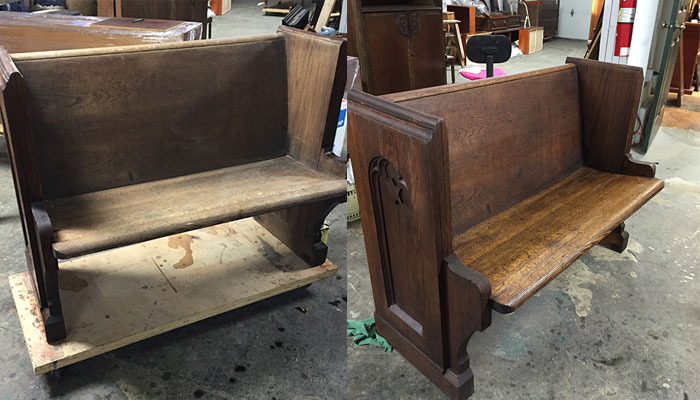 When it comes to furniture refinishing, there are many steps to consider. For the best result is to hire the professionals at Foxwood Restorations.  Foxwood provides furniture refinishing services to all of Washtenaw, Livingston, and Oakland Counties.  In addition, we can provide you with an estimate on all your furniture restoration needs online. Simply fill out our estimate form and be as accurate as possible for the best quote.
Furniture Refinishing Process
First, we analyze the material of the furniture and the condition it is in, such as damaged, painted, burned, and etc. Then we use mineral spirits on the wood to let you know how it might look with a new stain on the piece.  Next, we take the time to thoroughly clean the furniture removing old debris and dirt. In addition, on tables, we fix white rings that might have occurred over the years.
We next take the time to remove any unwanted paint or stains on the piece. Also, at this point repairs to the wood should take place as well. In addition, any cracks and dents are repaired as well. Finally, the pieces are sanded and stained and returned to their former glory. When it comes to refinishing there are many steps to follow and each piece will vary depending on damage and age. At Foxwood Restorations, we have seen all types of furniture throughout the years. Check out some of our previous work, and see how we can repair your furniture.  We have serviced Ann Arbor, Brighton, Saline, and all the surrounding areas.
From reupholstery to refinishing, we can restore all your furniture to look like new. Of course, if you just want to change color or perhaps a new pattern on your chairs or sofa we can handle that as well.  Give us a call today at 810-220-0123 to get a direct quote from us today!