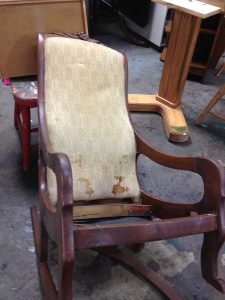 The city of Canton is known for a lot of things: nice schools, places to shop, festivals, parks–you name it. Amongst all of the wonderful things Canton has to offer, one thing that it is most unique for is its homes. The houses that build up the Canton community bring forth so much life, beauty and history–it's only right to have a little ounce of it inside of your place.
Each home has a story to tell. More and more people are beginning to invest in their run down or broken antique furniture. So, why can't you? Just because you own antique furniture, does not mean that it has to look outdated. You, too, can get your antique furniture upholstered service today.
Furniture Restoration and Upholstery Service
A lot of you may be wondering, "what makes antique furniture worth restoring?" When it comes to newer furniture, expenses can add up fairly quickly. Also, nowadays, getting your antique furniture restored is probably the easiest (and cheapest) route to go. Furniture restoration is typically defined as light cleaning and cosmetic repairs. We, here at Foxwood, repair, upholstery and restore furniture to our customer's liking. Regardless of what your taste may be, we know how to make your antique furniture look brand new. A few of the services we provide are:
Furniture Color Replacement
We also paint furniture, too, if you have a piece of furniture that needs to match a new room in your home! It does not matter what color it is or what type of furniture it may be–we will do our very best to please you.
Contact Us!
Foxwood Furniture Restoration is a well-established company that has been in business for over 30 years. We take pride in our antique furniture upholstery services and have served in the Canton community for years. Finally, if you are looking to get your antique furniture restored soon, contact us or swing on by to our facility. We await your visit!