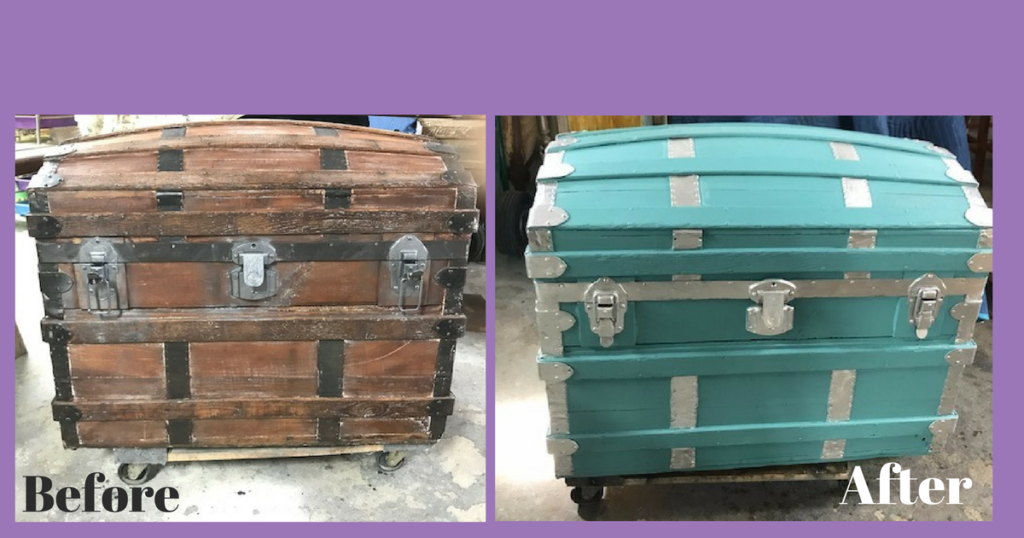 Do you dream of a room filled with colorful furniture or want to try something a dramatic new look with your old furniture? Or are you ready to repurpose your old and antique furniture with a fresh new coat of paint or stain? Let us here at Foxwood Furniture Restorations help give your antique furniture a modern new look with professional furniture refinishing.
If you've never heard of "Faux Bois" technique or faux wood staining, let us introduce you! Faux Bois is a French wood staining technique that dates back to the Renaissance period. Faux bois is a French term that literally translates to fake wood. Which perfectly describes the effect created by this staining technique. Creating a faux wood finish can help spruce up any furniture piece that would look better with a natural "straight from the forest" look.
This wood staining technique has also been used to change the grain of the wood, and to make common wood look like a nicer more expensive wood. If you have a furniture piece that you think might look better with a faux wood finish, you should bring it to us here at Foxwood Furniture.
Recent Faux Wood Staining Technique From Foxwood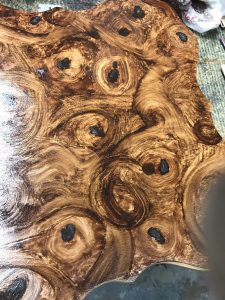 Here is an example of a recent faux bois staining job we did for a client. They wanted their old wood table to have a newer more natural look. You can see we used a special Foxwood technique to create a natural Burl Walnut finish.
The original grain on the table was very unattractive and dull so we implemented the faux wood technique to give it more character. We used our own artistry and experience to create this look and can do the same for your furniture as well!
Sometimes this staining style is necessary because the wood will not take stain properly or the grain is just very unattractive. This technique is used to improve or upgrade furniture without having to rebuild or buy the furniture from a store. The faux bois technique helps turn old worn-out furniture into new bright and trendy pieces!
If you've ever had an antique that would look better with a wood grain, you need to hire Foxwood Furniture. Don't risk ruining your favorite desk, dresser, or family heirloom. We can create this new look on any old furniture that you may have in your home with precision. Finally, We can make it beautiful again at Foxwoodrestorations.com!
Stripping furniture is the process of removing an old finish down to the bare wood surface. People decide to strip their old furniture and antiques so they can update them and give them a new look! You'd be surprised what stripping and refinishing furniture can do to update an old piece of furniture you can't part with.
Removing old paint from wood furniture is a labor-intensive process. It can be accomplished mechanically or with a chemical solvent. Machine sanding or hand sanding is one method of removal. While a lot of people opt for the DIY machine sanding and hand sanding this generally results in removing not only the finish but also some of the wood surface.
Using a chemical solvent, on the other hand, will remove the finish without damaging the wood. This is the most commonly used method of stripping finishes from old furniture. It is highly recommended for woods with attractive grain patterns and coloring that you don't want to be damaged while stripping your furniture.
This month at Foxwood furniture we have been obsessed with stripping and bleaching furniture. These looks give your furniture a nice natural look that accent the natural wood and craftsmanship. Foxwood Furniture Restorations is your local furniture stripping and bleaching company in the Brighton and Ann Arbor area! Let our trained experienced experts take your old and antique furniture and give it an upgrade!
You might be asking yourself "What is furniture stripping and bleaching and why should I leave it to a professional?" we have a few reasons.
Furniture Stripping
Happy New Year from Foxwood Furniture Restoration!
Foxwood Furniture Restoration is undergoing many changes to enhance it's digital presence for 2015! Our digital face lift will include Facebook , Twitter, Pinterest and Google+ posts. Foxwood Furniture Restoration will also be making some exciting changes to our website including more blog updates. We will be blogging about changes within our company, current sales and specials, furniture maintenance and the current trends in our industry.
Foxwood Furniture Restoration has been serving the Brighton community for many years and we are excited to be able to share another year with you. We will continue to offer furniture repair, upholstery, smoke, fire & water damage removal, antique chair repair, furniture stripping and refinishing in 2015. Foxwood Furniture Restoration would also like to thank the residents of Wixom, Ann Arbor, Birmingham, Troy, Bloomfield, Brighton, Southfield, Burton, South Lyon, Dearborn Heights, Royal Oak, Farmington Hills, Novi, Fenton, Livonia, Flint, and Howell for being loyal customers!
Remember to follow us online!