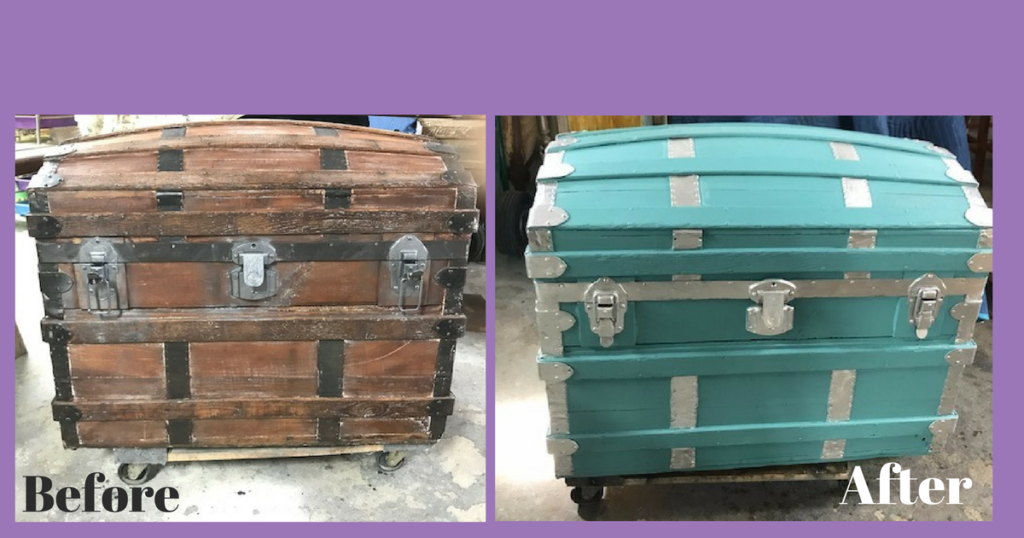 Do you dream of a room filled with colorful furniture or want to try something a dramatic new look with your old furniture? Or are you ready to repurpose your old and antique furniture with a fresh new coat of paint or stain? Let us here at Foxwood Furniture Restorations help give your antique furniture a modern new look with professional furniture refinishing.
If you've never heard of "Faux Bois" technique or faux wood staining, let us introduce you! Faux Bois is a French wood staining technique that dates back to the Renaissance period. Faux bois is a French term that literally translates to fake wood. Which perfectly describes the effect created by this staining technique. Creating a faux wood finish can help spruce up any furniture piece that would look better with a natural "straight from the forest" look.
This wood staining technique has also been used to change the grain of the wood, and to make common wood look like a nicer more expensive wood. If you have a furniture piece that you think might look better with a faux wood finish, you should bring it to us here at Foxwood Furniture.
Recent Faux Wood Staining Technique From Foxwood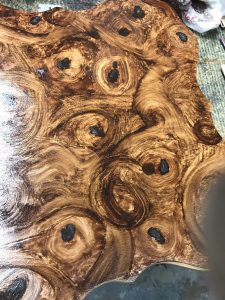 Here is an example of a recent faux bois staining job we did for a client. They wanted their old wood table to have a newer more natural look. You can see we used a special Foxwood technique to create a natural Burl Walnut finish.
The original grain on the table was very unattractive and dull so we implemented the faux wood technique to give it more character. We used our own artistry and experience to create this look and can do the same for your furniture as well!
Sometimes this staining style is necessary because the wood will not take stain properly or the grain is just very unattractive. This technique is used to improve or upgrade furniture without having to rebuild or buy the furniture from a store. The faux bois technique helps turn old worn-out furniture into new bright and trendy pieces!
If you've ever had an antique that would look better with a wood grain, you need to hire Foxwood Furniture. Don't risk ruining your favorite desk, dresser, or family heirloom. We can create this new look on any old furniture that you may have in your home with precision. Finally, We can make it beautiful again at Foxwoodrestorations.com!
Whether your piece of furniture is from a flea market, old friend or you've had it since the beginning of time, it can be refinished. Our experts are tasked with refinishing wood furniture every day. With our customer's desired look in mind, it's up to our professional woodworkers in Michigan, on how the piece will be refinished and repaired if necessary. There are many popular furniture finishes available including color and style of finish.
Want a new look, or maybe an old or antique look? We love to reproduce the look of an old piece that has multiple layers of paint. For this, we apply multiple colors of paint and aging techniques to achieve a heavy quality look of a cracked patina finish. 
Colored stain finishes have become very popular. If you're looking to add some color to your woods surface, colored stain will give you the look with beautiful long lasting results. Add color to your home and create a unique look by refinishing your wood furniture with colored stain. You can match other pieces of furniture you have or create new finishes for a stylish look.
Refinishing Wood Table with Colored Stain
We took this lovely old table that was painted white and found solid oak wood underneath. We decided to use a new weathered grey tone stain on this table. We varied the degree of transparency by adding a second coat of grey stain. You can still see down to the original beautiful oak grain. However, the new gray stain creates a designer finish. In addition, we painted the legs black with a pearly glaze applied over the black paint. The refinished table with the colored grey stain was just what our clients wanted to meet their stylish home with grey accents.
Some optional ways of creating an antique look would be to use gray antiquing stain over a white base. Or, you could use Burnt Sienna glaze over a grey stain.
TIP: Test the transparency level of your stain on the underneath side of the table.
Each type of wood will accept the stain differently.  Hardwoods do not drink in much color while softwoods accept more color. If the first coat of stain dries too light in value, you can brush on a second coat for a stronger level of color.
TRENDING NOW: Some new vogue stain color options are; light old rose pink, celadon green and Robbins egg blue.
The richness achieved through staining a piece of beautiful grain furniture cannot be matched through paint. You can experiment with the different hues and what they do to each type of wood to achieve an endless selection of finished effects.
We have used colored stain and tinted stain for many of our refinished wood furniture pieces. Due to the high demand of stylish accents for homes, colored stains are a great option for transparent, natural beauty with character. Please Contact Foxwood Restorations for furniture restoration, repairs and refinishing.