Piano restoration is a very delicate process that requires a minimum of three different technicians. A professional mover, a sound board & keyboard technician, and a wood restoration expert. All three technicians must work in conjunction for the successful outcome of the piano being restored.
Various tasks we perform while restoring the piano;
Vat strip work
Hand strip work
Hand sanding
Careful fills of any nicks and gouges
Piano restoration and repair is a very delicate process, the outcome is worth it.
The outcome of a restored piano is lovely. An old seasoned sound board in a old piano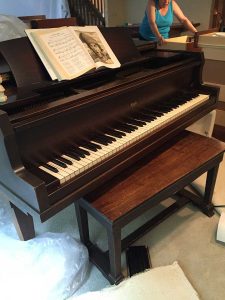 (at least 25 years) can be very irreplaceable. The sound board has settled through the years and the tone (to a true musician is rich and non achievable in a newer piano). The real wood of the the old piano is also replaceable.  The authentic ivory keys on an old piano is something that is longer available. Plastic resin keys are now used.
We use great care and know how valuable and priceless your vintage piano is. We take all the precautions and steps to restore antique pianos, contact Foxwood Restoration Company located in Brighton Michigan for all your restoration needs.