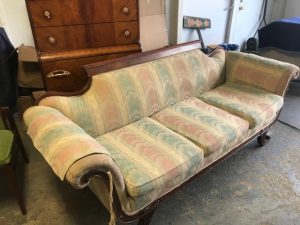 Recently, we helped a local young couple restore a piece of antique furniture that has been passed through their family for generations. Kristen is a medical student at Wayne State University in Detroit and Dan is a regional sales manager from Grosse Pointe. The soon-to-be-married couple wanted to put Dan's great-grandfather's couch in the living room of their new home in Birmingham. 
Furniture Reupholstery in Birmingham
The couch is a circa 1850s empire-style sofa with beautiful soft lines. However, the dated upholstery design of the couch didn't fit with the design of their new home. So, Kristen and Dan decided to have the couch re-upholstered by Foxwood Furniture Restorations! The couple has grandparents in Ann Arbor, MI that loved the idea of reupholstering the couch to its original glory and encouraged the repairs. 
When it came to picking a new fabric, Kristen and Dan selected a high-end royal green velvet fabric. As you can see, the fabric gives the old couch a luxurious new look. There is truly nothing quite like real velvet. The couch also needed a few repairs. The experienced contractors at Foxwood Restoration repaired an unstable wooden leg and did color replacement on the wood frame of the couch. Now, the antique couch is as good as new!
Furniture Reupholstery and Restoration in Southeast Michigan
Here at Foxwood, we have decades of experience when it comes to furniture reupholstery in Birmingham. We have serviced clients all over Southeast Michigan in cities such as Ann Arbor, Howell, Brighton, Detroit, and more! When it comes to restoring or repairing an important familial antique, Foxwood is the best choice for you! If you have a favorite piece of furniture in need of repair, bring it into Foxwood! Contact us at 810-220-0123 or submit a quote through our website for an estimate today!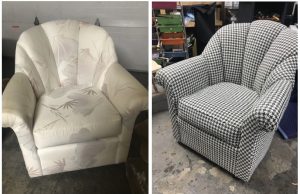 Here at Foxwood, we have experience when it comes to furniture repair and restoration in Ann Arbor and around Southeastern Michigan. For decades, people within the community have trusted us with their most treasured furniture pieces. We preserve the sentimental value while also restoring furniture to its former glory. 
Samantha's Furniture Repair Story
Just recently, we restored a channel back upholstered chair for Samantha of Ann Arbor, Michigan. Samantha wanted to give her old chair a fresh new look while maintaining its original character and history. It was a strong and comfortable chair with a swivel. The channel back chair was sentimental to Samantha as it had been used by her three young children who loved to play and spin on the swiveling chair. All three of her children had grown up playing and having fun on the comfortable chair. 
Unfortunately, the chair was starting to show its age through matted upholstery and a faded design pattern. Samantha knew she had to find a reliable company to fix the problems and save the history stored in that chair. It was only when she was moving to a country property in the area of Ypsilanti that she decided to have the chair reupholstered here at Foxwood. Not only did she want to chair to be reupholstered, but she also wanted to give the comfortable chair an updated look. Fortunately, we were able to reupholster the chair and add a new fabric that Samantha chose. The end product was a fine quality chair with a fresh new look that Samantha could be proud of. 
In addition, Samantha was so happy with her restored chair that she referred some of her friends from Saline,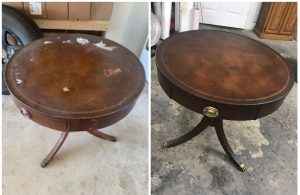 Michigan! They wanted to have the wood refinishing done to their full dining room table set. We were able to refinish the table, chairs, and hutch to restore the youth and beauty of the wood.
Furniture Restoration in Ann Arbor, Michigan
Foxwood Restorations is a high-end restoration furniture company with all of your furniture needs in one large industrial building. Call us today at 810-220-0123 to restore your most prized sentimental furniture from your great grandma and grandpa! Furniture from the past is all we can leave behind for our loved family members. By getting your favorite furniture repaired by us, you can ensure that the piece can be passed down through the generations. Contact us today to find out more about Ann Arbor furniture repair!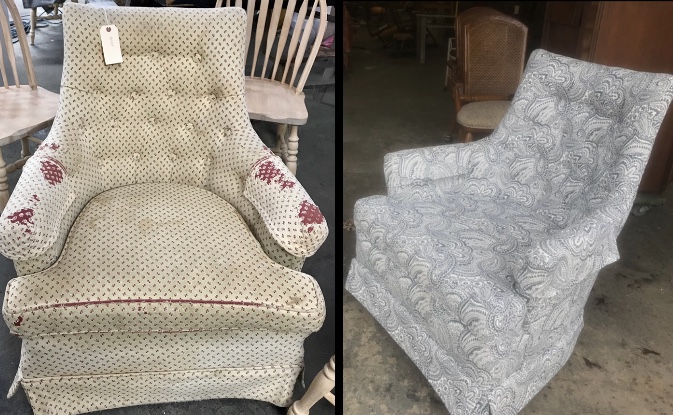 Due to the COVID-19 outbreak, the people of Ann Arbor are spending a lot more time with their furniture. We are all starting to see issues with our furniture that we didn't pay attention to when we were not home all the time.
That eyesore broken chair in the corner that no one uses? We can help repair it and make it look its best! That threadbare armchair with the stains on the seat that needs a new look? Foxwood can reupholster it with new fabric and stuffing to make it look brand new. Is that wood antique table tired looking? We can restore it to bring it back to its old patina and beautiful original look.
Our Furniture Repair Services in Brighton

Here at Foxwood, we have been servicing the people of Brighton for years. An example of this is Dale. Dale is a resident in Brighton, Michigan and he brought in his grandmother's antique rocking chair. The insides of the chair had become flat which caused the chair to lose its beauty and support. Also, the circa "1950" chair was ready for the burn pile. But the chair was very sentimental to Dale as he remembered hours of sitting on his grandma's lap in that chair. He was willing to do anything to save the chair that he remembered in his memories.  
Dale remembered hearing about Foxwood and decided to take a chance. He contacted us and within a few days, Dale was able to look at all of the hundreds of fabrics that Foxwood has online and selected about a dozen of his favorites that were sent to his home. After matching a few of the fabrics to his other furniture, he picked his favorite and the reupholstery of his chair was started. Foxwood finished his chair in about 30 days and Dale was able to bring it home. Now, Dale is happy sitting in and enjoying his grandmother's reupholstered rocking chair that will last from generation to generation.
We are spending so much time with our furniture under home quarantine these days. Now is the time to love your furniture and love others. Foxwood Furniture Restoration is open for curbside service from 12 PM to 5 PM Monday through Friday, Saturday is by appointment only. Finally, for more information, please contact us today!