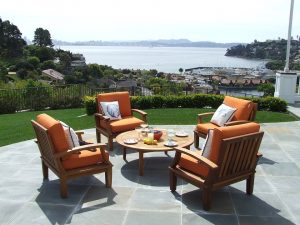 When it comes to buying new furniture you should always buy the best, especially for outdoor furniture. Fortunately, teak wood is a strong and durable material that is made to last. Teak is a type of hardwood known for its strength and longevity. Also, with its natural ability to remove moisture, teak is a popular material to be used in the construction of outdoor furniture.

This tropical wood can be expensive due to its high quality but lasts for many years. Here at Foxwood, we want to make sure that you get your money's worth and can repair your teak furniture for you! Also, we do teak wood furniture repairs in Ann Arbor. 
Types of Teak Furniture
Most times, the seat of a chair wears down over time. With patio chairs and lounges made with teak wood, you won't have this problem. It is often used to make patio chairs and lounges in areas with warm seasonal weather where people use outdoor furniture the most. 
Teak tables tend to last longer than plastic and wooden tables. They are better in the sun than plastic and do not melt or weaken over time. Furthermore, they are less prone to the weather and termite damage found in wooden tables.
Due to their strong composition, teak benches are usually used commercially. These benches are strong and do not decay as the teak wood can protect itself from moist weather and rain which makes the piece of furniture last longer. 
Teak Wood Furniture Repairs at Foxwood
Furniture made from teak wood is some of the most durable and elegant that you can find. Teak is durable and lasts for years. But even the well made teak furniture can get damaged and need restoration or repairs. If you are in need of teak furniture repairs, contact Foxwood today! We have decades of experience in hardwood furniture repairs.
Posted In: Furniture Repairs and Restoration, Services
Tags: teak furniture, teak furniture repair, teak wood furniture