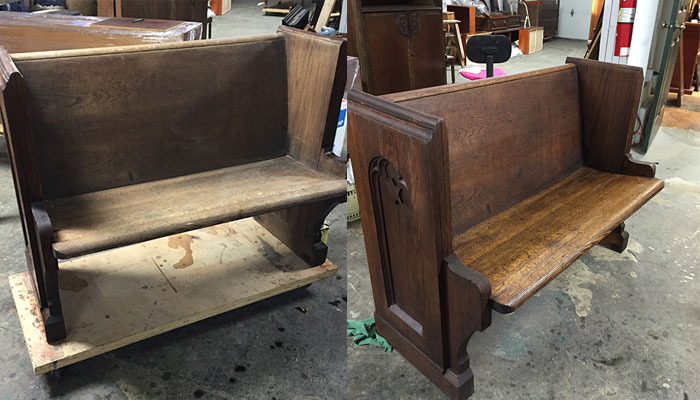 When it comes to furniture refinishing, there are many steps to consider. For the best results is to hire the professionals at Foxwood Restorations.  Foxwood provides furniture refinishing services to all of Washtenaw, Livingston, and Oakland Counties.  In addition, we can provide you with an estimate on all your furniture restoration needs online. Simply fill out our estimate form and be as accurate as possible for the best quote.
Furniture Refinishing Process
First, we analyze the material of the furniture and the condition it is in, such as damaged, painted, burned, and etc. Then we use mineral spirits on the wood to let you know how it might look with a new stain on the piece.  Next, we take the time to thoroughly clean the furniture removing old debris and dirt. In addition, on tables, we fix white rings that might have occurred over the years.
We next take the time to remove any unwanted paint or stains on the piece. Also, at this point repairs in the wood should take place as well. In addition, any cracks and dents are repaired as well. Finally, the pieces are sanded and stained and returned to its former glory. When it comes to refinishing there are many steps to follow and each piece will vary depending on damage and age. At Foxwood Restorations, we have seen all types of furniture throughout the years. Check out some of our previous work, and see how we can repair your furniture.  We have serviced Ann Arbor, Brighton, Saline, and all the surrounding areas.
From reupholstery to refinishing, we can restore all your furniture to look like new. Of course, if you just want to change color or perhaps a new pattern on your chairs or sofa we can handle that as well.  Give us a call today at 810-220-0123 to get a direct quote from us today!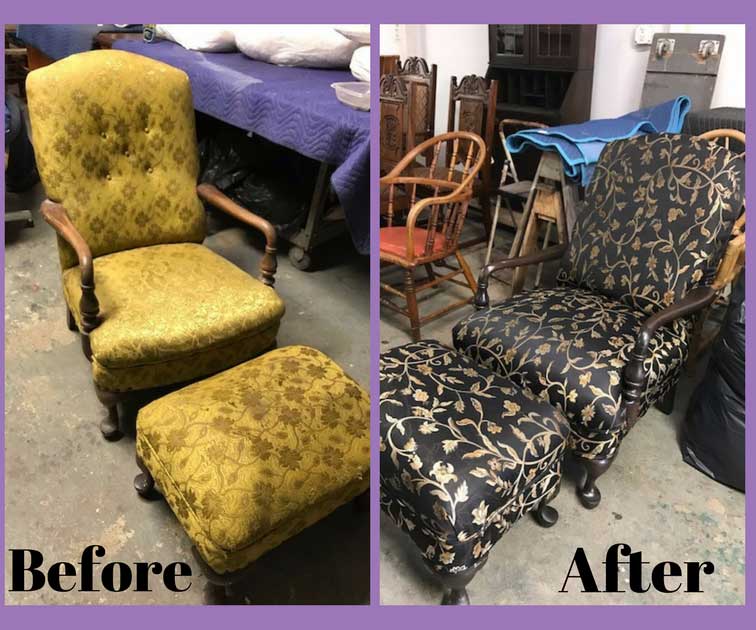 When it comes to looking for furniture restoration near me, your first choice in Novi or Brighton should be Foxwood Restorations. We have been servicing clients from all over Novi for decades. In addition, we are the most trusted furniture repair company in the area. We also work with your insurance companies to help save you money.
Foxwood Furniture Restoration Near Me
Our staff has experience and know how to handle all types of antique furniture. We have old world repair craftsmen, upholsters, experienced refinishers, and furniture moving specialists all on staff. Foxwood is a fully insured and licensed business that you can trust.  Furniture restoration near me is getting harder to find in the Novi area. Lucky for you, Foxwood Restorations is here and ready to help.
 Thank you so much for the excellent work that you did on my dining room set. It is truly beautiful, and it completely refreshed the set. Even my husband adores it, and he is difficult to get any reaction out of in regards to furniture! 

-Alexis
Novi's Best Furniture Restoration
Foxwood Restoration has worked on all types of furniture such as roll-top desks, chairs, couches, dining sets, and much more. Today's furniture just does not have the build quality of some of the more priceless pieces of the past. If you have furniture that has been in the family for generations restore it today. We can help you decide on the right stains, upholstery and look for your furniture.
The best part about choosing Foxwood Restorations, we are easy to find, right off of East Grand River Ave. We are located at 9894 Weber St, Brighton, MI 48116.  You can give us a call at 810-220-0123, or use our easy estimate form. Finally, we strive to restore your furniture to the beautiful piece it once was. When it comes to furniture restoration, the best in the state of Michigan is Foxwood Restorations.
Happy New Year from Foxwood Furniture Restoration!
Foxwood Furniture Restoration is undergoing many changes to enhance it's digital presence for 2015! Our digital face lift will include Facebook , Twitter, Pinterest and Google+ posts. Foxwood Furniture Restoration will also be making some exciting changes to our website including more blog updates. We will be blogging about changes within our company, current sales and specials, furniture maintenance and the current trends in our industry.
Foxwood Furniture Restoration has been serving the Brighton community for many years and we are excited to be able to share another year with you. We will continue to offer furniture repair, upholstery, smoke, fire & water damage removal, antique chair repair, furniture stripping and refinishing in 2015. Foxwood Furniture Restoration would also like to thank the residents of Wixom, Ann Arbor, Birmingham, Troy, Bloomfield, Brighton, Southfield, Burton, South Lyon, Dearborn Heights, Royal Oak, Farmington Hills, Novi, Fenton, Livonia, Flint, and Howell for being loyal customers!
Remember to follow us online!