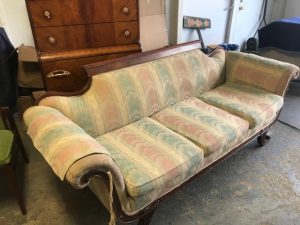 Recently, we helped a local young couple restore a piece of antique furniture that has been passed through their family for generations. Kristen is a medical student at Wayne State University in Detroit and Dan is a regional sales manager from Grosse Pointe. The soon-to-be-married couple wanted to put Dan's great-grandfather's couch in the living room of their new home in Birmingham. 
Furniture Reupholstery in Birmingham
The couch is a circa 1850s empire-style sofa with beautiful soft lines. However, the dated upholstery design of the couch didn't fit with the design of their new home. So, Kristen and Dan decided to have the couch re-upholstered by Foxwood Furniture Restorations! The couple has grandparents in Ann Arbor, MI that loved the idea of reupholstering the couch to its original glory and encouraged the repairs. 
When it came to picking a new fabric, Kristen and Dan selected a high-end royal green velvet fabric. As you can see, the fabric gives the old couch a luxurious new look. There is truly nothing quite like real velvet. The couch also needed a few repairs. The experienced contractors at Foxwood Restoration repaired an unstable wooden leg and did color replacement on the wood frame of the couch. Now, the antique couch is as good as new!
Furniture Reupholstery and Restoration in Southeast Michigan
Here at Foxwood, we have decades of experience when it comes to furniture reupholstery in Birmingham. We have serviced clients all over Southeast Michigan in cities such as Ann Arbor, Howell, Brighton, Detroit, and more! When it comes to restoring or repairing an important familial antique, Foxwood is the best choice for you! If you have a favorite piece of furniture in need of repair, bring it into Foxwood! Contact us at 810-220-0123 or submit a quote through our website for an estimate today!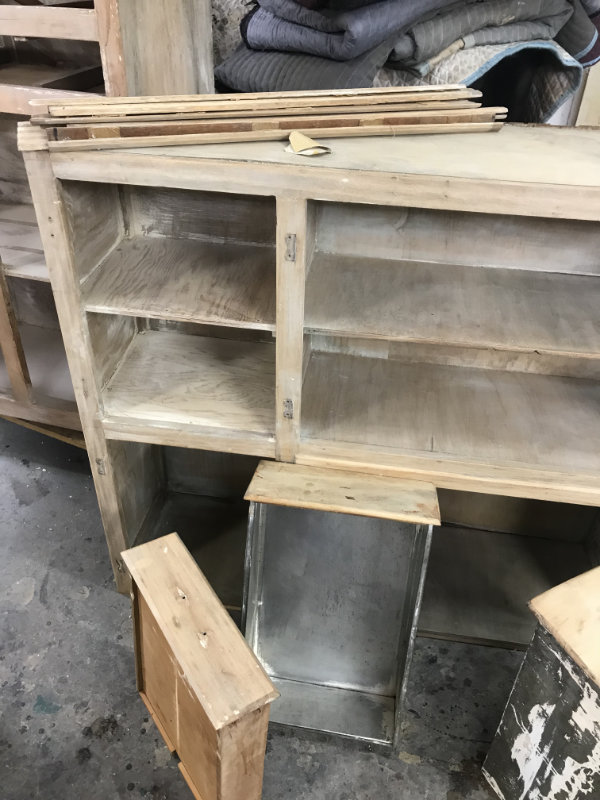 Before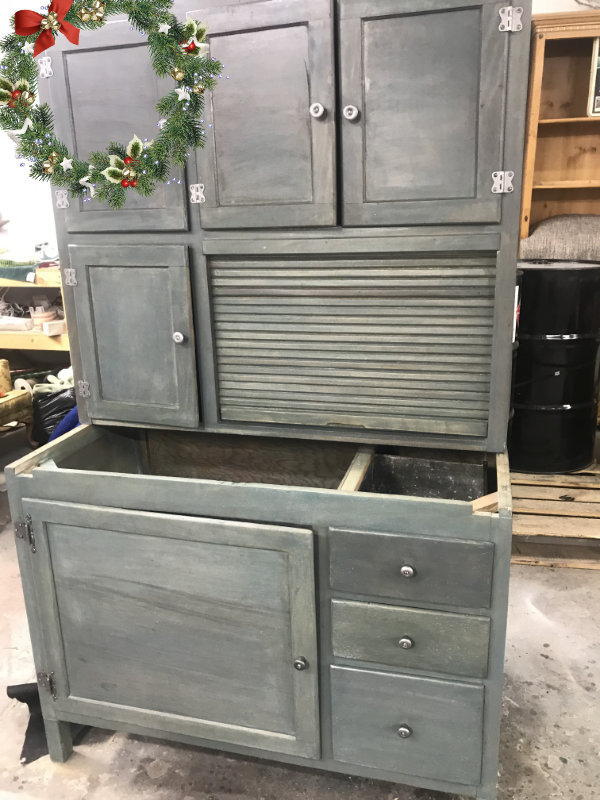 After
---
Dan of Canton Michigan inherited this antique Hoosier from his Grandmother who lived to be 108 years old. The Hoosier was dropped off in a truckload of pieces as the Antique Hoosier restoration had not been in operation for about 50 years. Also, the owner did not know if it would even go back together. He said please just do the best you can as this cabinet is very sentimental to me.
The Hoosier was painted with 100 years of old paint. Also, he asked Foxwood Restorations to strip it repair the structure and paint it with old-world blue paint and then add some antique aging to it. See the picture of the unit stripped and broken down. He also asked us to research the history of the Hoosier cabinet. Most homes in the late 1800s rarely had built-in cabinetry. As families began to grow a movement started to set forth an "efficiency Kitchen" that would make it easier to manage the kitchen "stuff".
The new invention was a well-organized, compact cabinet that provided a place for everything ranging from salt shakers to mixing bows and also a handful of key tools like a built-in flour sifter. Sometimes it's the simplest things that bring the cost joy. In our modern age of LED outdoor Christmas decorations and online buying sometimes it can be hard to remember just how simple Christmas was for generations of people in the past.
Antique Hoosier Restoration Project
This project from Foxwood Restorations shows what a team of experts from Brighton and Ann Arbor are able to accomplish with your grandmother's old cabinet. We take a lot of care in your sentimental and loved pieces. Some of your family Heirloom antique furniture pieces functioned with our family members through the last Spanish flu pandemic. What a great gift idea of restoring a piece of antique furniture that survived with our family through the last Spanish flu pandemic. In addition, this will live with us through this current COVID pandemic. The stories this piece of furniture has to tell to generations of your family. Made it through then and we will make it through again ( together) with our beloved old family furniture.
Finally, contact Foxwood Restorations today to breathe new life in your old quality furniture.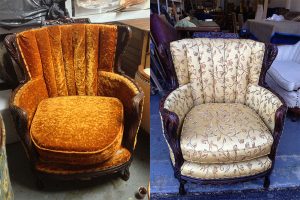 Many of us have that old piece of furniture that needs to be replaced. That old table or sofa has seen better days and is now taking up space. Thankfully, you don't have to replace it! Bring your old furniture to Foxwood for furniture restoration or repair and reap the benefits for years to come!
Restoring Over Buying
There are many advantages to restoring furniture over buying new furniture. Old furniture was made to last, unlike some of the Swedish cheap furniture that you find today. Furniture just isn't made to the high quality it used to be. By repairing and restoring an old piece, you can add years to the use of the piece. 
Some pieces of furniture have history and sentimental value that you won't find in a new piece. Whether that be your grandmother's old rocking chair or the cabinet you received as a wedding gift, some things cannot be replaced. Instead of losing these memories, you can bring your piece to Foxwood and have it restored to its former glory.
Disposing of your furniture whenever it loses its charm or function is wasteful. When disposing of an object that can be salvaged, you enlarge your carbon footprint and risk being environmentally harmful. You can avoid negatively affecting the environment and be eco-friendly by restoring your piece. We can restore your furniture and refresh the style by staining or reupholstery. 
Furniture Restoration near Ann Arbor
Here at Foxwood Restorations, we have been repairing and restoring furniture in and around Ann Arbor for over 30 years. With years of experience in helping people repair and reface their old furniture, we are the best choice for any furniture restoration project. Furthermore, we offer a full line of fabrics for our reupholstery services and a large selection of stains for wood restoration and refinishing. I think we've made the case for restoring furniture over buying so Contact us today online or call our local Ann Arbor number at 734-237-9099.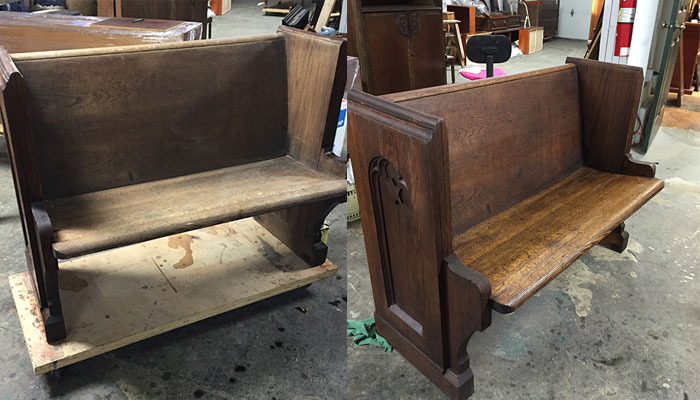 When it comes to furniture refinishing, there are many steps to consider. For the best result is to hire the professionals at Foxwood Restorations.  Foxwood provides furniture refinishing services to all of Washtenaw, Livingston, and Oakland Counties.  In addition, we can provide you with an estimate on all your furniture restoration needs online. Simply fill out our estimate form and be as accurate as possible for the best quote.
Furniture Refinishing Process
First, we analyze the material of the furniture and the condition it is in, such as damaged, painted, burned, and etc. Then we use mineral spirits on the wood to let you know how it might look with a new stain on the piece.  Next, we take the time to thoroughly clean the furniture removing old debris and dirt. In addition, on tables, we fix white rings that might have occurred over the years.
We next take the time to remove any unwanted paint or stains on the piece. Also, at this point repairs to the wood should take place as well. In addition, any cracks and dents are repaired as well. Finally, the pieces are sanded and stained and returned to their former glory. When it comes to refinishing there are many steps to follow and each piece will vary depending on damage and age. At Foxwood Restorations, we have seen all types of furniture throughout the years. Check out some of our previous work, and see how we can repair your furniture.  We have serviced Ann Arbor, Brighton, Saline, and all the surrounding areas.
From reupholstery to refinishing, we can restore all your furniture to look like new. Of course, if you just want to change color or perhaps a new pattern on your chairs or sofa we can handle that as well.  Give us a call today at 810-220-0123 to get a direct quote from us today!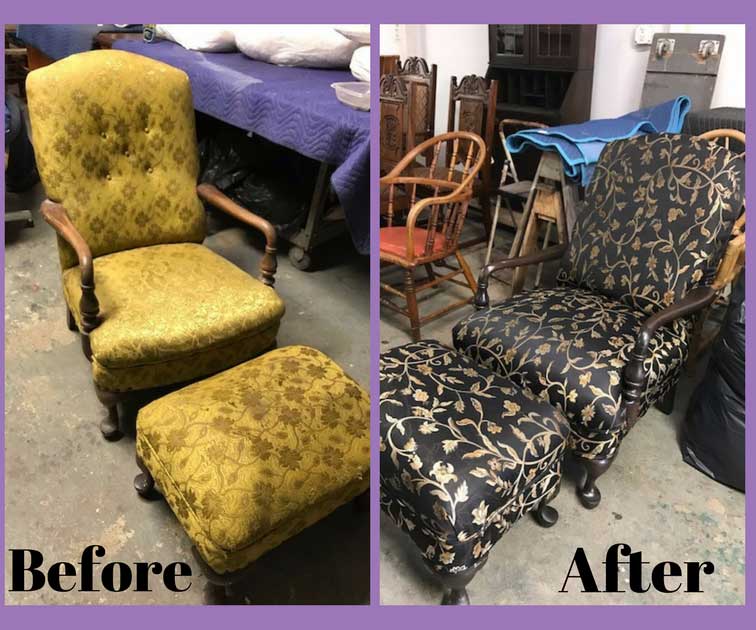 When it comes to looking for furniture restoration near me, your first choice in Novi or Brighton should be Foxwood Restorations. We have been servicing clients from all over Novi for decades. In addition, we are the most trusted furniture repair company in the area. We also work with your insurance companies to help save you money.
Foxwood Furniture Restoration Near Me
Our staff has experience and know how to handle all types of antique furniture. We have old world repair craftsmen, upholsters, experienced refinishers, and furniture moving specialists all on staff. Foxwood is a fully insured and licensed business that you can trust.  Furniture restoration near me is getting harder to find in the Novi area. Lucky for you, Foxwood Restorations is here and ready to help.
 Thank you so much for the excellent work that you did on my dining room set. It is truly beautiful, and it completely refreshed the set. Even my husband adores it, and he is difficult to get any reaction out of in regards to furniture! 

-Alexis
Novi's Best Furniture Restoration
Foxwood Restoration has worked on all types of furniture such as roll-top desks, chairs, couches, dining sets, and much more. Today's furniture just does not have the build quality of some of the more priceless pieces of the past. If you have furniture that has been in the family for generations restore it today. We can help you decide on the right stains, upholstery and look for your furniture.
The best part about choosing Foxwood Restorations, we are easy to find, right off of East Grand River Ave. We are located at 9894 Weber St, Brighton, MI 48116.  You can give us a call at 810-220-0123, or use our easy estimate form. Finally, we strive to restore your furniture to the beautiful piece it once was. When it comes to furniture restoration, the best in the state of Michigan is Foxwood Restorations.