When choosing to reupholster a piece of furniture, there are many important details to think about.  What is the look and feel you are trying to establish?  What will the fabric feel like to your skin when spending much time sitting on the furniture?
Do you want a more modern look or do you want to consider and antique reproduction fabric? Also, do you have pets or children?  Will your piece require the durability of a tightly-woven fabric or maybe even a faux leather? Perhaps most importantly how can you avoid making a fabric mistake that you will regret later?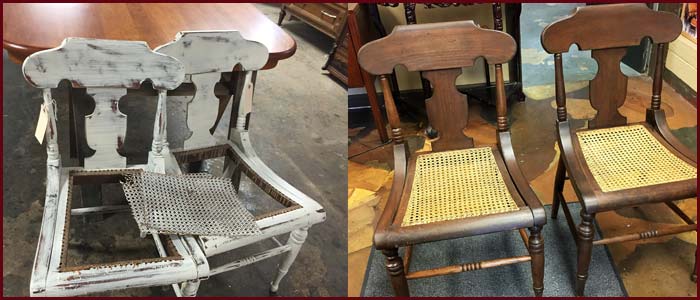 Foxwood Restorations does repair work on chairs. We will re-weave your chair if it needs the hole cane chair replacement. Also, we can replace the press cane as well. We can repair your old chairs to look brand new!
We will then color match the cane to match the original color as close as we can.  Come visit our team at Foxwood Restorations. In addition, we will strip, sand, prep your furniture at Foxwoodrestorations.com. No job is too large or too small at Foxwoodrestorations.com. We are the largest furniture restoration in the midwest. Everything is restored in our large facility in Brighton Michigan.  We specialize in wood and furniture repair for antiques as well as full re-upholstery for all your most precious heirloom furniture.