When looking for furniture repairs Brighton, Foxwood is the best choice. Whether you want to fix that wobbly old chair collecting dust in the basement or restore the beauty of that once-elegant dining room table, Foxwood Furniture Restoration is the place you want to contact. We offer many various furniture repairs on your furniture whether you need a simple repair or a full furniture restoration we will get it looking the way you want it, it's what we do!
Listed are various furniture repairs done by Foxwood Furniture Restoration;
Level uneven table and chair legs
Secure loose joints
Re-glue veneers
Strip, sand, seal, and bleach surfaces
Repair gouges, cracks, and wood burns
Apply wood putty, stains, waxes, varnishes, shellacs, and lacquers
Repair sticking drawers and binding doors
Re cane your chairs
Paint furniture
We restore English, French, and American furniture of the 1700s and early 1800's. This period is often referred to as the Golden Century of Furniture Design, because it was during this period that furniture design became a popular art, expressing the changing moods of the people. There are a number of different styles of early American furniture;
Queen Anne
Hepplewhite
Sheraton Regency
Winsor
When it comes to furniture repairs in Brighton or the Ann Arbor area, Foxwood is the best choice. At Foxwood Furniture Restoration the options are almost endless with all of our furniture repair services. Whether it was from a careless act, time gone by, or even an unfortunate house fire or flooding that caused damage to your furniture, you can count on us to treat it with care and bring it back to life! Finally, make sure to leave us a review on Facebook or Google.  We are always happy to hear from all our great customers!
Contact us today!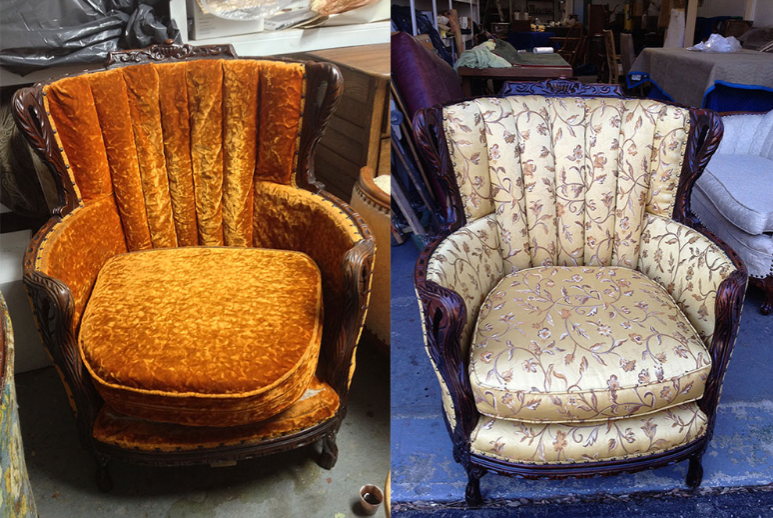 Are you looking to repair a piece of your favorite furniture? Come on over to Foxwood Furniture Restoration!
Foxwood Restorations is an antique furniture repair and restoration company. We have been based in Southeastern Michigan for over thirty years helping to restore history and sentiment in antique furniture. Our goal is to restore your furniture back to the original standard and integrity of the piece while also adding a modern touch.
What is Furniture Restoration?
Antique and woodwork furniture restoration is a noninvasive method to clean and fix old furniture to its original beauty. It involves physical repairs, damage replacement, and cleanup. These minor cosmetic changes help to make the piece look brand new. Here at Foxwood Furniture Restoration, we understand the importance of antique furniture. We understand that the piece in need of repair could be an item that has been in the family for generations. Because of this, we handle every piece with our utmost care.
We upholster cushions, sofas, woodwork, table sets, hinges, and so much more! And we repair furniture for many different reasons. Pet damage, restoration properties, staining, or general repairs. Whether it be smoke, fire, or water damage, our experienced upholsters and old world repair craftsmen can fix it all, and at a great price.
Why should you restore old furniture?
There are many benefits to restoring old furniture. One of said benefits is the reduced carbon footprint. It seems like everything today is made to throw away when the going gets tough. Most older furniture was built with a better quality than the furniture of today. This means that the restored furniture will last longer than modern furniture. Another benefit is the price. You can restore an older piece for a much lower price than buying an all-new piece. Want something different? No problem! Choose a new wood color or a new fabric.
Furniture restoration is a great way to enhance your other furniture as well as bring character to any room. Having reupholstered antique furniture in Plymouth is a great way to spice up your home in a city full of history. So, what are you waiting for? Fill out our free estimate form today! We will contact you with our special offers as soon as possible.
When Life Throws You A Curve
Life can bring unexpected twists and turns. It's when you least expect it that things go awry and your life can be turned upside down. Fires, floods, and pipes bursting are events that can be hard to predict. It can add insult to injury when these events damage your home and favorite furniture or family heirlooms. This is where we step in. Foxwood Restoration can provide residential or commercial furniture repair and restoration services for fire or water damage and insurance loss or claims.
Foxwood Restoration provides affordable alternatives to throwing out your most precious and precious furniture pieces. We take time and care to repair and restore your water and fire furniture back to new. Our skilled staff of craftsmen, artists, upholsterers and repair people will bring your cherished pieces back to life again.  
You don't need to be a re-finisher or an expert in upholstery or antique furniture to recognize and identify high quality furniture. Follow these furniture feature guidelines to help you recognize the craft and quality of a piece of furniture;
Features of quality typically found in furniture that is at least 10 years or older;
Wood Furniture Composition:
Softwoods Are made from coniferous trees: pine, fir, redwood and cedar wood. Softwoods require more care due to being more prone to scratches and dents.
Hardwoods Are made from deciduous trees: oak, maple, teak, mahogany, cherry, walnut and birch. Hardwood is dried to remove moisture.
Furniture Joint Construction:
The construction of a piece of furniture can tell you about the quality of the piece, look for these;
Dovetail, Mortise & Tenon are the oldest ways furniture makers put furniture together.
Reinforced corner blocks seen from the inside add to the stability and strength of a piece of furniture.
Dowels and Screws
Furniture Drawer Structure:
Dust panels are thin sheets of wood between drawers in a chest or desk of drawers.
Floating bottom are not affixed to the sides of the drawer, instead they float in the groove of the drawer.
Metal glide rails drawers run smoothly and have stops to make sure the drawer does not pull all the way out.
Springs  hand-tied springs, close together even resistance.
Upholstered Furniture:
Cushions firm foam / wrapped in padding , protective inner cover , reversible cushions.
Fabric high grade 120,000 rub fabric, aligned pattern , skirts with lining or weights.
If you have questions on the quality or craftsmanship of a piece of furniture from a Chippendale piece of furniture, a rare unknown antique piece to a piece that may be modern but you just aren't sure, Contact Our Specialists  at Foxwood Restorations.
As a rule, any piece of furniture in good condition that passes through two generations starts increasing in value. A generation can be loosely defined as 20 to 25 years.  So today in the 21st Century all of our parents furniture is beginning to increase in value and worth restoration if needed.
Furniture from our previous generations is worth restoring
Have you heard the term Retro  furniture Lately?  Furniture manufactures are trying to reproduce our parent's furniture and calling it Retro. The truth is, this furniture will never be made again in the solid construction or materials our original parent's furniture was.  As you can see all furniture from our previous generations is worth restoring.
I as rule will not restore any piece of furniture less than 15 years old as this is when  manufacturers began to  build furniture  with press boards,  mixed glues with  sawdust and inferior rag woods such as popular and rubber trees.  I have witnessed the entire furniture industry quality go down to a laughable  piece of junk that looks pretty on the outside but is fundamentally nothing more than firewood kindle.
So treasure the furniture of your previous family generations.  Restore it, Repair it, treat it with love.  There will never again be any furniture produced  with this  fine woodworking, design and  high end woods.
~ Best, Betty.