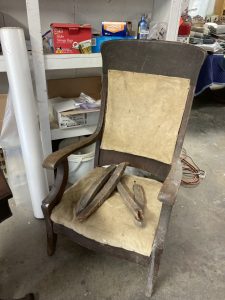 When it comes to family heirlooms, you want to keep them in the family. However, furniture repair and restoration are required. After all, time is not kind to furniture. That was the situation that Betty had. This Ann Arbor local wanted to give a special family heirloom to her newly-wed daughter at her wedding. The heirloom was a grandma rocking chair that has been in the family for two generations. The historic furniture belonged to their polish bloodline. Now it was ready for a new generation. However, the grandma rocking chair was in a state of disrepair.
The chairs' rockers had broken off. As a result, it could no longer sway back and forth. In addition, the wood had lost its luster and the old upholstery need replacement. There were also some minor damages to the chair. This rocking chair would need some TLC before it would be ready for the bride. So, Foxwood did a variety of rocking chair repair and restoration techniques to bring the grandma rocking chair back to life.
Rocking Chair Repair and Restoration Process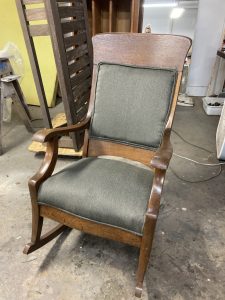 To return this chair to a beautiful state, Foxwood had work to do! First of all, this beauty would need new rocker runners. This process includes ordering new runners then aging the wood to match the rocker. The furniture would require wood restoration. There specific techniques that can be used to restore furniture. Since this rocker need some care, Foxwood did a combination of chemical stripping, hand-standing, and staining to restore the wood. Finally, it needed re-upholstery. A modern grey fabric was chosen to match the bride's new home decor. After handling minor repairs, the grandma rocking chair had been restored. Afterward, the chair was ready to be a perfect wedding gift.
Satisfied Foxwood Restorations Customer
Foxwood is a rare and unique restoration company that has been serving clients for over 30 years. Our company focuses on restoring your antique furniture to its original form and integrity. Foxwood has a variety of services available for your antique. We want all our customers to feel as satisfied as Betty and her daughter were with the restored rocking chair. So contact us today and let's bring your furniture back to life!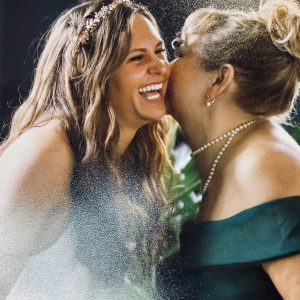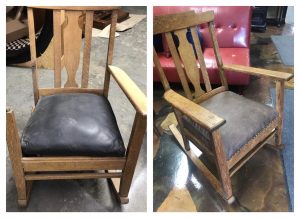 Are your chairs damaged and in need of restoration? Repair your chairs and restore them at Foxwood Restorations! Here at Foxwood, we are the official chair hospital for furniture in Livingston and Oakland County. We will tighten your high-quality chairs, secure them, and return them to their former glory! After we repair them, they will be safe and useful for another 25 years!
Why should You Repair Your Chairs?
Here at Foxwood, we provide an affordable alternative to replacing your furniture. Our specialists are highly skilled in wood and furniture repair for antiques as well as full reupholstery. There are many benefits to repairing your chairs rather than replacing them. From the reduced carbon footprint to the better quality of older furniture, there is a multitude of reasons as to why you should bring your old and broken chairs to Foxwood.
Nowadays, everything is designed to be discarded. Furniture is made at a lower quality than it used to be so you will be forced to buy a new piece when it breaks. By repairing or restoring your chairs, you can reduce the need for brand new furniture, thus reducing your carbon footprint. Also, by getting your chairs repaired, you reduce the need for more trees and materials to be made.
By having your chairs restored and repaired, you can choose a whole new style. You can get a brand new look for your room and furniture for less than buying all new furniture. You can keep your favorite pieces while having it match your room! And at Foxwood Restoration, we have loads of materials to choose from to really change up the look of your chairs.
Another great benefit of repairing your old furniture is the extension of its life. Some older chairs are built with better quality than todays. By repairing the chairs with a new look you are adding years to their life and getting better use out of it.
About Foxwood Furniture Restoration Services
We provide many services including fine furniture and antique repairs, stripping and refinishing, hand and machine cane replacement, as well as the rush and reweaving of chairs. And we have been serving the local Michigan cities of Novi, Howell, Brighton, and Lansing for upwards of 25 years. You can count on us! Also, Foxwood Restoration is an insurance claim specialist when it comes to navigating through your homeowner's insurance loss.  We have worked with many insurance companies through the years including; Pioneer Insurance, Auto-Owners, State Farm, AAA Insurance, and more.
Visit our large facility and showroom or call us at  810-220-0123 for more information. And if you would like to get your chairs repaired, submit an estimate form today! We can't wait to meet you!