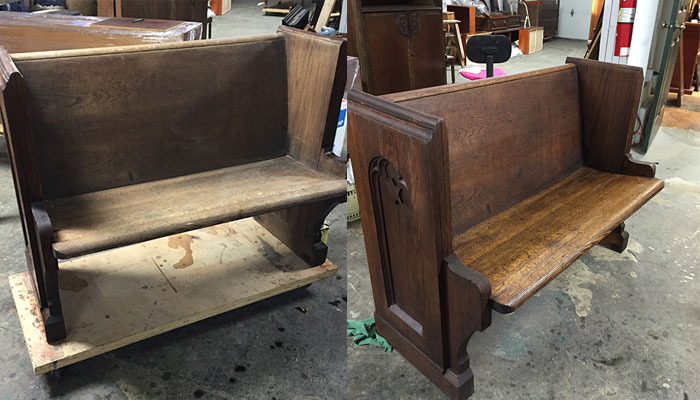 When it comes to furniture refinishing, there are many steps to consider. For the best result is to hire the professionals at Foxwood Restorations.  Foxwood provides furniture refinishing services to all of Washtenaw, Livingston, and Oakland Counties.  In addition, we can provide you with an estimate on all your furniture restoration needs online. Simply fill out our estimate form and be as accurate as possible for the best quote.
Furniture Refinishing Process
First, we analyze the material of the furniture and the condition it is in, such as damaged, painted, burned, and etc. Then we use mineral spirits on the wood to let you know how it might look with a new stain on the piece.  Next, we take the time to thoroughly clean the furniture removing old debris and dirt. In addition, on tables, we fix white rings that might have occurred over the years.
We next take the time to remove any unwanted paint or stains on the piece. Also, at this point repairs to the wood should take place as well. In addition, any cracks and dents are repaired as well. Finally, the pieces are sanded and stained and returned to their former glory. When it comes to refinishing there are many steps to follow and each piece will vary depending on damage and age. At Foxwood Restorations, we have seen all types of furniture throughout the years. Check out some of our previous work, and see how we can repair your furniture.  We have serviced Ann Arbor, Brighton, Saline, and all the surrounding areas.
From reupholstery to refinishing, we can restore all your furniture to look like new. Of course, if you just want to change color or perhaps a new pattern on your chairs or sofa we can handle that as well.  Give us a call today at 810-220-0123 to get a direct quote from us today!
If you've never heard of "Faux Bois" technique or faux wood staining, let us introduce you! Faux Bois is a French wood staining technique that dates back to the Renaissance period. Faux bois is a French term that literally translates to fake wood. Which perfectly describes the effect created by this staining technique. Creating a faux wood finish can help spruce up any furniture piece that would look better with a natural "straight from the forest" look.
This wood staining technique has also been used to change the grain of the wood, and to make common wood look like a nicer more expensive wood. If you have a furniture piece that you think might look better with a faux wood finish, you should bring it to us here at Foxwood Furniture.
Recent Faux Wood Staining Technique From Foxwood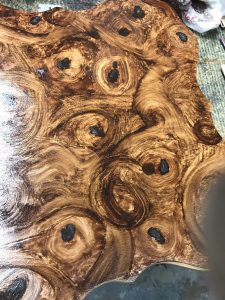 Here is an example of a recent faux bois staining job we did for a client. They wanted their old wood table to have a newer more natural look. You can see we used a special Foxwood technique to create a natural Burl Walnut finish.
The original grain on the table was very unattractive and dull so we implemented the faux wood technique to give it more character. We used our own artistry and experience to create this look and can do the same for your furniture as well!
Sometimes this staining style is necessary because the wood will not take stain properly or the grain is just very unattractive. This technique is used to improve or upgrade furniture without having to rebuild or buy the furniture from a store. The faux bois technique helps turn old worn out furniture into new bright and trendy pieces!
If you've ever had an antique that would look better with a wood grain, you need to hire Foxwood Furniture. Don't risk ruining your favorite desk, dresser, or family heirloom. We can create this new look on any of old furniture that you may have in your home with precision. Finally, We can make it beautiful again at Foxwoodrestorations.com!
Tinted Stains By Foxwood Restorations
We can stain your existing  furniture, we can also distress it. Take a look at  this wonderful old piece of furniture with a new aged green stain tint. We have Green, Grey, Blue stains available,  put a dark wash over it and aged, distressed and beautiful is what you get!
Newly Covered Pillows
With your newly upholstered chair, we can upholster your pillow to match! Or make a splash, add fun and colorful accent pillows to your newly upholstered chair. We can cover your existing pillows or
make you brand new ones.
Milk Paint Colors
We also paint with any new milk paint colors such as; Barn Red, Cottage Rose, Brier wood Green, Yankee Blue or Cobblestone. We have artists on staff to make your piece of furniture look like the piece of art it deserves to!
Contact Foxwood Restoration Services in Brighton Michigan for any Specialty Upholstery, Refinishing, Repairs, Painting you are looking for your piece of furniture. We also specialize in restoring furniture from damage of fire and water, our professionals will assist you in your options and it's our passion to do so!
Services provided by Foxwood Furniture Restoration Brighton MI
Re-Upholstery Services
Repairing Stripping Frame Repairs
Repairing surface defects
Re-gluing Joints
Replacing missing legs, arms, slats and other pieces
Repairing broken sections
Repairing cracks and splits
And more
If you have furniture that needs refinishing and restoring with other repairs needed please contact us, our experts work hard in bringing your furniture back to life the way you imagine it, we take pride in restoring antique types of furniture.
Before and After photos of Furniture Refinishing and Restoration
What is used when Refinishing your Wood Furniture and Is it Worth Restoring?
The finish on furniture is the coating you apply to the wood to protect the surface and bring out the beauty of the furniture.
It can be a penetrating finish or a surface finish
For a penetrating finish we might use linseed oil or tung oil.  It is worked  into the wood to give it a natural look.
For a surface finish used something like varnish or lacquer and requires several coats with smoothing in between.
How much repair does your furniture need? Does it need to be glued? Does it need new hardware to stay sturdy and safe?
The type of wood and how old it is will determine the outcome of the piece of furniture, we are experts in restoring antique furniture. We also can repair all types of wood furniture including; Maple, Mahogany, Cherry, Walnut, Pine and Oak.
Let our experts at Foxwood Restorations help you determine if your old wood furniture is worth restoring and refinishing. Call us today at 810-220-0123 and we will be pleased to help you refinish your furniture the way you want it.