As furniture travels through generations, getting passed from household to household wear and tear starts to become noticeable. For instance, water rings, nicks or scratches, or faded from sunlight may develop over time. Furniture like a home has memories that many people want to pass down. The following is a story from a recent customer who wanted to restore furniture for generations to come.
Aren's Story: Choosing to Restore Furniture, Allowed Memories to Continue.
Aren is a middle school teacher who grew up in Saline, MI just outside of Ypsilanti. He now works In the Milan school district as a history teacher and also coaches football. Aren's new wife Lynn is originally from Brighton, MI. She works at the University of Michigan in Ann Arbor in purchasing. They got married in May of last year and bought their first house in Ypsilanti. The house is located on a beautiful corner lot just across the street from the Oakengates subdivision park.
Aren's parents, of Saline, insisted they incorporate his grandparent's dining room set into there new Ypsilanti home. The tabletop was so beat up that it had to be planed at a mill-works shop. What a difference that made to the maple top! Notice the rich walnut stain against the now painted blue support and chairs. Just a stunning combination and smart retro look. Aren and Lynn are now expecting their first baby in April and plan to someday pass the table set down to the 4th generation.
How You Can Restore Furniture for Generations!
Foxwood Restoration can bring life back to your old dull antiques that have been passed down through generations. We can help you can put that special touch in restoring furniture that will add your memories before passing it down to future generations.
If you would like more information on having your furniture or antiques restored or reupholstered, contact us today.  We bring the life back to sofas, love seats, bar stools, desks, chairs both wood and fabric. Before you throw it by the curb, get a refurb!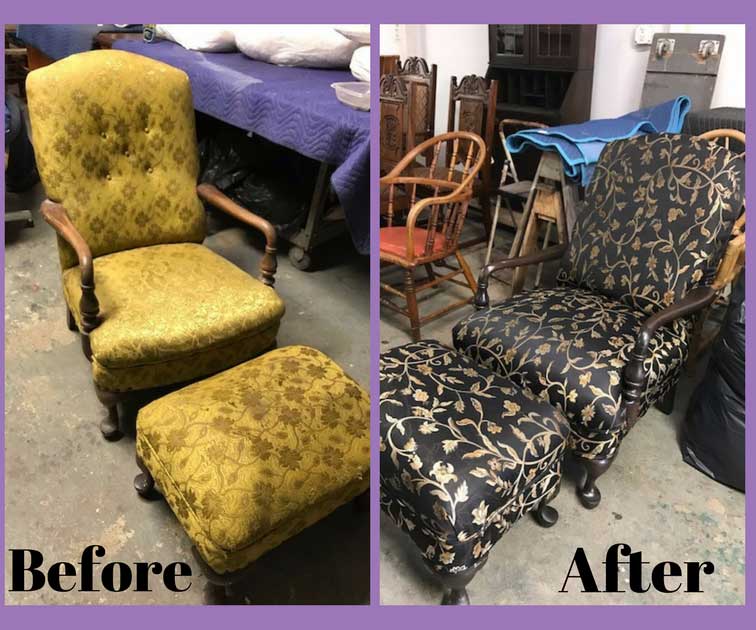 When it comes to looking for furniture restoration near me, your first choice in Novi or Brighton should be Foxwood Restorations. We have been servicing clients from all over Novi for decades. In addition, we are the most trusted furniture repair company in the area. We also work with your insurance companies to help save you money.
Foxwood Furniture Restoration Near Me
Our staff has experience and know how to handle all types of antique furniture. We have old world repair craftsmen, upholsters, experienced refinishers, and furniture moving specialists all on staff. Foxwood is a fully insured and licensed business that you can trust.  Furniture restoration near me is getting harder to find in the Novi area. Lucky for you, Foxwood Restorations is here and ready to help.
 Thank you so much for the excellent work that you did on my dining room set. It is truly beautiful, and it completely refreshed the set. Even my husband adores it, and he is difficult to get any reaction out of in regards to furniture! 

-Alexis
Novi's Best Furniture Restoration
Foxwood Restoration has worked on all types of furniture such as roll-top desks, chairs, couches, dining sets, and much more. Today's furniture just does not have the build quality of some of the more priceless pieces of the past. If you have furniture that has been in the family for generations restore it today. We can help you decide on the right stains, upholstery and look for your furniture.
The best part about choosing Foxwood Restorations, we are easy to find, right off of East Grand River Ave. We are located at 9894 Weber St, Brighton, MI 48116.  You can give us a call at 810-220-0123, or use our easy estimate form. Finally, we strive to restore your furniture to the beautiful piece it once was. When it comes to furniture restoration, the best in the state of Michigan is Foxwood Restorations.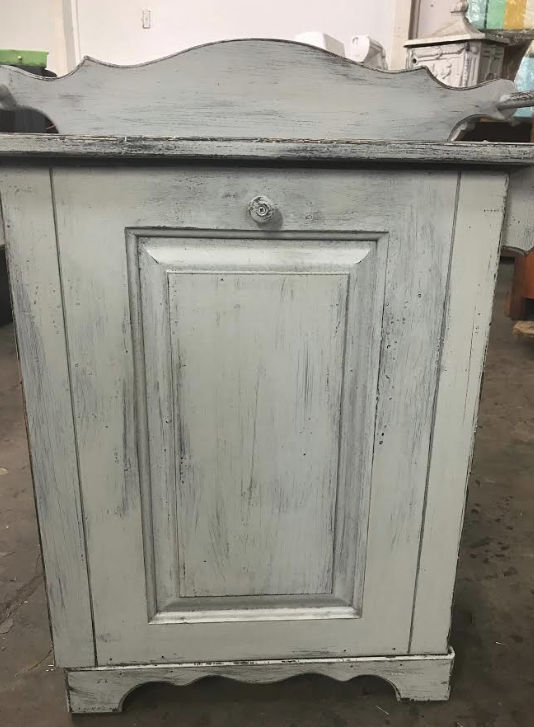 Are you looking for a furniture piece with character? A newly popularized furniture trend is the aged painted or wood with a distressed finish. In a state as full of history as Michigan, nothing is more beautiful than a distressed piece of furniture. Foxwood Furniture Restorations embraces this beauty.
A distressed finish, also known as aged painting, is used to make new furniture appear vintage and aged. In addition, distressed finishes are often created by making the paint seem worn. Aged painting is used to create a worn appearance to a new piece of furniture in colors besides the natural wooden coloring with brief glimpses of the original wooden base.
Aging and Distressed Finish Techniques
There are several distressing and aging techniques that Foxwood Restorations can do to make your furniture piece as beautiful as possible. Also, keep in mind that each distressed piece is different than the next. Each piece is completely unique. One particular distressing technique is called the wet-distressing technique. This is a popular technique when layering colors as it creates a naturally worn effect. Another popular technique is the dry-distressing technique which is best to use with single colors with a desire to expose the natural wooden layer. Lastly, the resist technique is used to create a chipping paint appearance meant to show antiquity.
If you are in or around Livingston County, you understand the value of Michigan's history. Those living around the University of Michigan can practically feel the school's history oozing from its foundations. Opened in 1817, The University of Michigan causes Ann Arbor to soak in past history. Foxwood Restorations will fix up student's furniture for the best price whether that be repairs, distressing wooden furniture, or age painting furniture, Foxwood Restorations can do it all!
If you are interested in getting a new look for your furniture or getting a piece repaired, contact us! We are interested in bringing a new character to your house or school dorm! Finally, get your furniture repaired by the best, come to Foxwood Restorations. We cannot wait to hear from you!
Call Our new Ann Arbor number: 734-237-9099