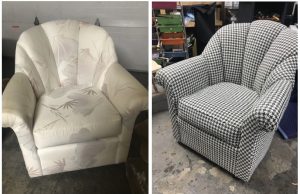 Here at Foxwood, we have experience when it comes to furniture repair and restoration in Ann Arbor and around Southeastern Michigan. For decades, people within the community have trusted us with their most treasured furniture pieces. We preserve the sentimental value while also restoring furniture to its former glory. 
Samantha's Furniture Repair Story
Just recently, we restored a channel back upholstered chair for Samantha of Ann Arbor, Michigan. Samantha wanted to give her old chair a fresh new look while maintaining its original character and history. It was a strong and comfortable chair with a swivel. The channel back chair was sentimental to Samantha as it had been used by her three young children who loved to play and spin on the swiveling chair. All three of her children had grown up playing and having fun on the comfortable chair. 
Unfortunately, the chair was starting to show its age through matted upholstery and a faded design pattern. Samantha knew she had to find a reliable company to fix the problems and save the history stored in that chair. It was only when she was moving to a country property in the area of Ypsilanti that she decided to have the chair reupholstered here at Foxwood. Not only did she want to chair to be reupholstered, but she also wanted to give the comfortable chair an updated look. Fortunately, we were able to reupholster the chair and add a new fabric that Samantha chose. The end product was a fine-quality chair with a fresh new look that Samantha could be proud of. 
In addition, Samantha was so happy with her restored chair that she referred some of her friends from Saline,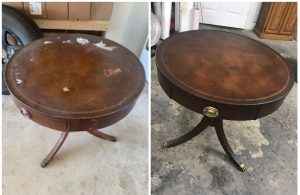 Michigan! They wanted to have the wood refinishing done to their full dining room table set. We were able to refinish the table, chairs, and hutch to restore the youth and beauty of the wood.
Looking for more storage in your backyard? Visit Lakeside Cabins and Sheds for quality built sheds.
Furniture Restoration in Ann Arbor, Michigan
Foxwood Restorations is a high-end restoration furniture company with all of your furniture needs in one large industrial building. Call us today at 810-220-0123 to restore your most prized sentimental furniture from your great grandma and grandpa! Furniture from the past is all we can leave behind for our loved family members. By getting your favorite furniture repaired by us, you can ensure that the piece can be passed down through the generations. Contact us today to find out more about Ann Arbor furniture repair!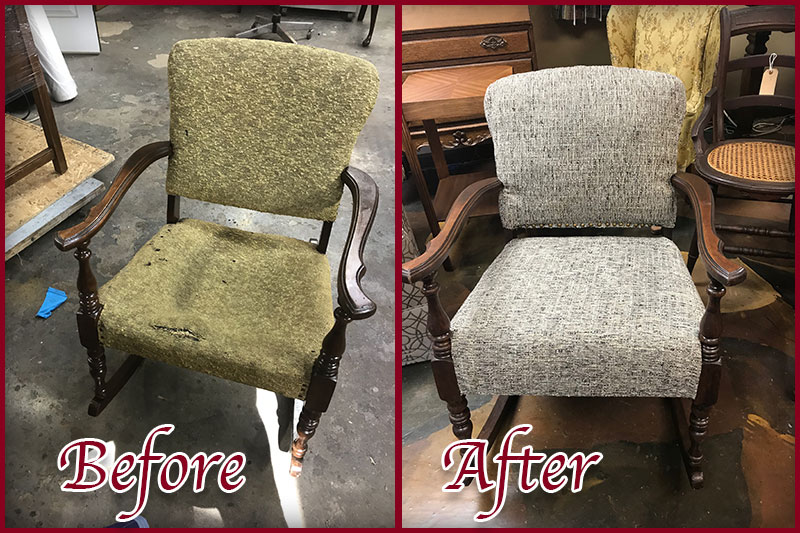 Foxwood Restoration provides residential and commercial furniture repair and restoration services for fire or water damage to furniture. These services is for your home or office. In addition, Foxwood Restoration provides an affordable alternative to replacing your furniture and fixtures. There is a multitude of reasons to repair your damaged furniture instead of just throwing it away. If it is a quality piece that has been in the family for generations, do not just throw it away,
bring it to us
and have it repaired.
Fire or Water Damage Can Be Repaired
No one can foresee an accident happening such as a pipe bursting or a house fire.  Fire or water damage can really be a big hassle to deal with. At Foxwood Restoration, we understand what a stressful time it can be. The good news is we have seen quite a few fire damaged chairs and pieces over the years. We can restore your furniture to its former glory. You would not be able to tell it was ever damaged in the first place. Take the time and fill out our free estimate form or give us a call today at 810-220-0123.
We specialize in
wood and furniture repair
for antiques as well as full re-upholstery of furniture.  Also, we offer 1000 sample fabrics in our showroom for you to look at. In addition, we have been serving the Livingston, Macomb and Oakland counties for over 20 years. Foxwood Restoration has worked with numerous insurance companies such as
Allstate
, Auto owners Farm Bureau Farmers, Frankenmuth Insurance, Nationwide, Pioneer, Prudential, State Farm and many more.
We offer fine furniture repair and reupholster, along with hand caning reweaving of chairs as well as expert staff to work with your precious sentimental furniture pieces. Finally, we will refinish and restore all of your furniture or can assist you with stripping your furniture for you in our large industrial chemical stripping tank.