When looking for furniture repairs Brighton, Foxwood is the best choice. Whether you want to fix that wobbly old chair collecting dust in the basement or restore the beauty of that once-elegant dining room table, Foxwood Furniture Restoration is the place you want to contact. We offer many various furniture repairs on your furniture whether you need a simple repair or a full furniture restoration we will get it looking the way you want it, it's what we do!
Listed are various furniture repairs done by Foxwood Furniture Restoration;
Level uneven table and chair legs
Secure loose joints
Re-glue veneers
Strip, sand, seal, and bleach surfaces
Repair gouges, cracks, and wood burns
Apply wood putty, stains, waxes, varnishes, shellacs, and lacquers
Repair sticking drawers and binding doors
Re cane your chairs
Paint furniture
We restore English, French, and American furniture of the 1700s and early 1800's. This period is often referred to as the Golden Century of Furniture Design, because it was during this period that furniture design became a popular art, expressing the changing moods of the people. There are a number of different styles of early American furniture;
Queen Anne
Hepplewhite
Sheraton Regency
Winsor
When it comes to furniture repairs in Brighton or the Ann Arbor area, Foxwood is the best choice. At Foxwood Furniture Restoration the options are almost endless with all of our furniture repair services. Whether it was from a careless act, time gone by, or even an unfortunate house fire or flooding that caused damage to your furniture, you can count on us to treat it with care and bring it back to life! Finally, make sure to leave us a review on Facebook or Google.  We are always happy to hear from all our great customers!
Contact us today!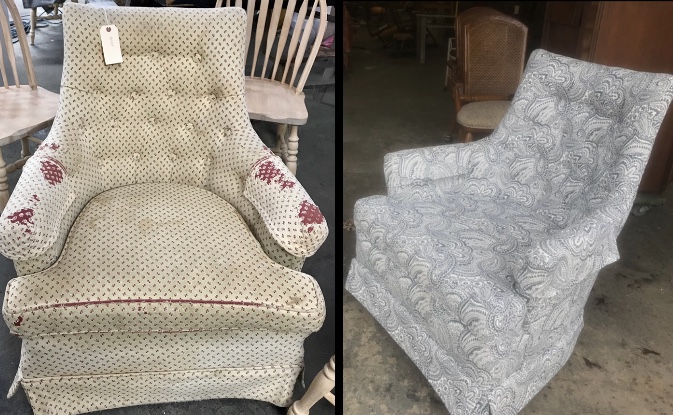 Over the last couple of years, the people of Ann Arbor are spending a lot more time with their furniture. We are all starting to see issues with our furniture that we didn't pay attention to when we were not home all the time.
That eyesore broken chair in the corner that no one uses? We can help repair it and make it look its best! That threadbare armchair with the stains on the seat that needs a new look? Foxwood can reupholster it with new fabric and stuffing to make it look brand new. Is that wood antique table tired-looking? We can restore it to bring it back to its old patina and beautiful original look.
Our Furniture Repair Services in Brighton

Here at Foxwood, we have been servicing the people of Brighton for years. An example of this is Dale. Dale is a resident in Brighton, Michigan and he brought in his grandmother's antique rocking chair. The insides of the chair had become flat which caused the chair to lose its beauty and support. Also, the circa "1950" chair was ready for the burn pile. But the chair was very sentimental to Dale as he remembered hours of sitting on his grandma's lap in that chair. He was willing to do anything to save the chair that he remembered in his memories.  
Dale remembered hearing about Foxwood and decided to take a chance. He contacted us and within a few days, Dale was able to look at all of the hundreds of fabrics that Foxwood has online and selected about a dozen of his favorites that were sent to his home. After matching a few of the fabrics to his other furniture, he picked his favorite and the reupholstery of his chair was started. Foxwood finished his chair in about 30 days and Dale was able to bring it home. Now, Dale is happy sitting in and enjoying his grandmother's reupholstered rocking chair that will last from generation to generation.
Repair Your Furniture Instead of Replacing It
We spend a lot of time with our furniture and it does get worn and break. With prices rising on materials it probably would be better to repair your furniture than replace it. Be sure to avail yourself of Foxwood's furniture repair services. Whether you live in Ann Arbor or closer to Brighton, we do a lot of service up and down the U.S. 23 corridor. Foxwood Furniture Restoration is open for curbside service from 12 PM to 5 PM Monday through Friday, Saturday is by appointment only. Finally, for more information, please contact us today! 
For the month of September, Foxwood Restorations is highlighting the ottoman. For many, the ottoman has provided people with a fashionable form of seating dating back to the late 1820s. When the ottoman first debuted, it was originally made up of a simple upholstered box with a few loose cushions and a back. The original version of an ottoman had four seats arranged around a central box or two seats arranged back to back. After 1850, a new more complete version of ottomans was introduced that were modeled after a French gossip seat with the sitters facing each other.
Ottomans were not found everywhere. If you wanted to see an ottoman you would be most likely to find one in ballrooms, galleries, and other large spaces. In these settings, people were expected to only use them for a brief second and not lounge in them.
Brighton, Michigan Furniture Repair Services
Do you have an ottoman that needs to be reupholstered in Brighton? Foxwood Restorations is open Monday through Saturday from 12:00 pm to 5:00 pm to serve you. We take pride in all of our furniture repair services that we provide for Brighton area residents. Foxwood Restorations also has over 70 years of experience restoring furniture back to its original state or even better! Contact us now so that we can get started on restoring your ottoman!