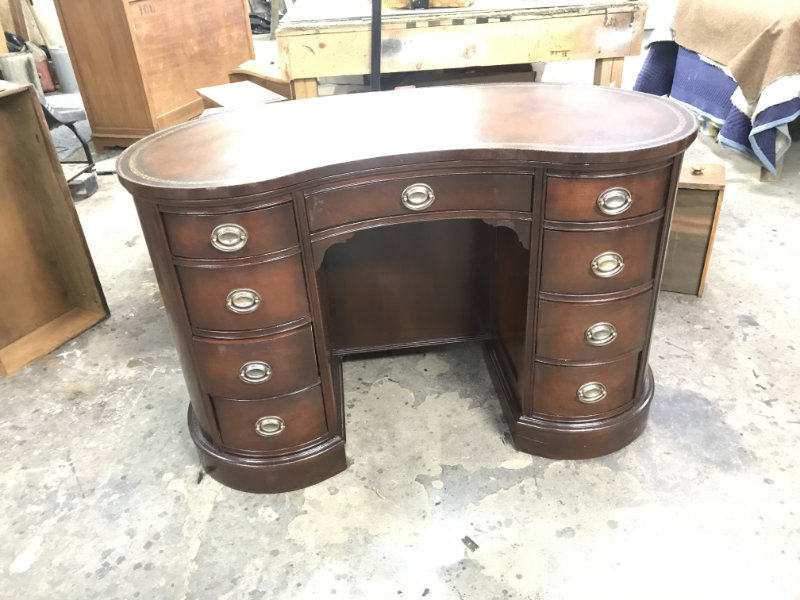 Suzy of Ann Arbor had a leather top kidney shape desk that belonged to her grandfather. The desk was full of nicks and scratches from old age as well. In addition, the leather top was nicked up and damaged. Also, we assessed the damage and put a restoration plan in place.
Leather Top Desks Restoration
Leather tops of antique furniture need special attention as they cannot be replaced. The experts at Foxwood Furniture  Restorations use a combination of color replacement and artwork to restore a leather top. Antiques such as leather top desks are in safe professional hands at Foxwood Furniture Restoration.
We take the time to fully restore your piece to its former glory. Also, we make sure each piece is up to our highest standards before contacting the client. In the Ann Arbor or Brighton area, the best furniture repair is at Foxwood. iN addition to desks, we restore chairs, dressers, couches, and just about any type of furniture.
Furthermore, we can help replace just about any type of material for your furniture. From patterns to stained wood we can find the materials needed to complete the restoration. If you would like to visit our facility we are located in Brighton. Also, while located in Brighton, we service all the surrounding cities as well as Ann Arbor.
Grandma and Grandpa's furniture are given the love and respect they deserve at Foxwood Furniture Restoration. Bring all of your furniture repairs, chair Caneing, and re-upholstery work, and refinishing to Foxwood Furniture Restoration. Finally, call us today at Brighton: 810-220-0123 or Ann Arbor: 734-237-9099.

Here at Foxwood Restoration, we would like to share a story about Sharen and her furniture from Ann Arbor. Sharon grew up in Ann Arbor, Michigan and was an only child. Her mother was an accountant and also a single parent. Sharen was an only child and very close to her mother. After getting her degree in social work, Sharen moved to Saline, Michigan.  Sharen's mom Julie, continued to do accounting work out of her home office until she got dementia.
At this time, Sharon had to move her mother over to a nursing home in Ann Arbor. IN addition, to keep as much familiarity with items around her mother as possible, Sharen decided to keep and reupholster all 5 chairs of her mother's furniture.  By this time, her mother had developed incontinence. All of her furniture would have to be recovered in vinyl so it can be easily cleaned. Sharen wanted to keep the same original colors of the furniture that her mother Julie could feel some familiarity with the furniture. That is exactly what Foxwood Restorations did.
Furniture From Ann Arbor Restorations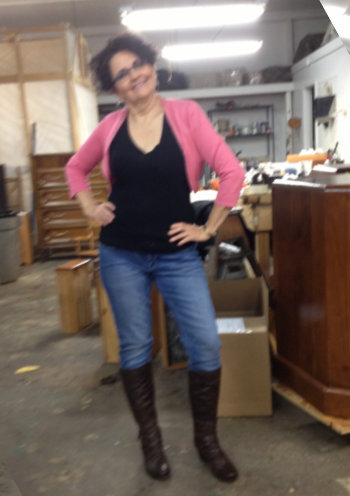 This is just one example of some of the restoring and reupholstering work we do for people in Ann Arbor. Of course, we also serve Saline, Brighton, and all the surrounding cities as well. If you have furniture you would like to restore to its former glory contact us today. You can also give us a call at Brighton: 810-220-0123, Ann Arbor: 734-237-9099, anytime. Our experienced staff can help you decide on the right materials for your furniture and which options are best.
If you would like to give a new look to your furniture this holiday season, contact us today! From chairs, tables, desks, ottomans, you name it, if it is furniture we can restore it!