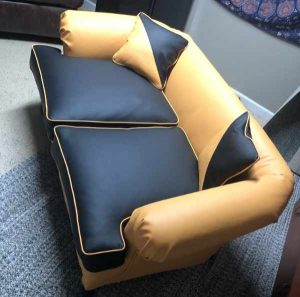 One of our recent Brighton customers brought in an older love seat to be reupholstered. The love seat belonged to a single mom who is in the doctor of pharmacy medical program at Wayne State University in Detroit. The love seat was donated to her many years ago and has been in her room for almost 10 years.
Her daughter recently started driving and she wanted to fix up a room in the basement for her daughter to have friends over. In addition to the new room, they had the love seat reupholstered for the room.  The love seat was made with orange and black faux leather to represent the colors of Brighton High School. This gave the love seat a reupholstered Halloween look!
This is just one example of the many reupholstered pieces Foxwood has done for families throughout the years. In addition, we provide many other restoration services as well.
Reupholstered Halloween Furniture
No matter if you like Halloween, Easter, Thanksgiving, or any occasion, we can reupholster your furniture to match your tastes. Also, modern-day furniture is just not as quality as older furniture.  Breath life back into your old furniture by restoring it with Foxwood Restorations.
Furthermore, by restoring your older more reliable furniture you will save money. In addition to no longer needing to buy new furniture every 3-4 years, you get decades out of your antique furniture. Also, by using Foxwood you change the look of the furniture to match your room or style. Not sure what exactly you need? Call Betty at Foxwood today, she has over 30 years of experience in the furniture business. She will help you find exactly what you are looking for.
This Halloween, enjoy restored classic furniture while you participate in the holiday traditions. Finally, give us a call today at 810-220-0123 or contact us now!
A piece of furniture that has a high-quality old frame combined with high-quality fabric and good workmanship is a stunning piece of furniture. There are a few things to know when looking for high quality upholstered furniture. Some of these features will tell you if your piece of furniture needs to be reupholstered or restored.
Here's what to look for when recognizing a high quality upholstered piece of furniture:
Eight-Way hand tied coil springs placed underneath the deck. This is when an array of coils are tied from all directions: front, back, side-to-side, and diagonal, a total of eight times to create comfort, support, even spacing, and resistance to pressure.
Lined skirting twice the ware. Make sure that the cushions are reversible.
Loose back cushions (so that the filling does not settle).
Check to see if the frame is furniture grade wood.
Be sure that the corners and arms of the chairs/sofas have thick padding.
Make sure all cushions have zippers aligned with the fabric for removal.
The pillowcase stuffing has to have compartments for minimal setting.
The floral patterns must flow from one part of couch to next.
Firm foam block has to be wrapped in padding.
A Protective inner cover has to be within the furniture. This helps avoid scratches when transporting your furniture.
All fabric should be a high grade, 120 rub fabric, aligned with the pattern, and the shirts should have lining or weights.
Reupholstery is used to fit sofas and chairs with covering, padding, springs, and webbing. At Foxwood Furniture Restoration, we refurbish your antique furniture to bring it back to its original state. With over 70 years of experience, we offer complete and thorough furniture restorations on antiques. If you are looking to have your furniture restored or repaired, we do furniture upholstery in Brighton, MI. Contact Foxwood Furniture Restorations today for our furniture restoration services!