Tabletops bring a lot of character to a person's home. With that being said, there are a few things that you can do to protect the value and look of your furniture. Foxwood Restorations a local expert in furniture repair and restoration would like to share these valuable tabletop tips!
Tabletop – Removing an Alcohol Spot
Removing an alcohol spot is quite simple. If you're fast enough after the spill, try to very lightly wipe the spot with a cloth, moistened with a little household ammonia. Also, if this method doesn't work, try rubbing the alcohol spot with a fine abrasive or some type of lubricant.
Lubricating Runners
Lubricate the runners with a silicone sprayer. Use a piece of paraffin wax or a wax candle to apply a thin layer of wax to the sliding surfaces of the runners. Once that's completed, slide the top together a few times to spread the wax along the runners.
Cleaning Wood Runners
Extension tables become difficult to open when runners are clogged with dirt and lubricant. To avoid this difficulty: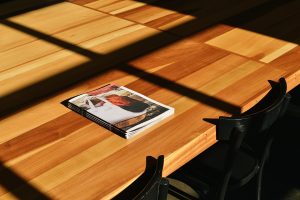 Spread the top apart as far as you can to allow access to the runners
Use the tip of a small screwdriver to dig out dirt and caked lubricant from the runners
Use a cloth, soaked with mineral spirits (or turpentine) and an old toothbrush to scrub away any remaining dirt or grease
Wipe the runners dry with a clean cloth
Re-gluing Veneer
Place a dishtowel over the blister and press down with an iron set on moderate heat, to protect the finish. After a few minutes, the blister should flatten. Once the blister has flattened, weigh it down with several heavy books overnight.
Treating White Rings or Spots on your Tabletop
White rings can be caused by condensation from a cold drink, alcohol, spilled shaving lotion/perfume, or even by a hot cup of coffee. To remove a white ring or spot, try placing a blotter over the spot and pressing with a warm iron. If this method doesn't work after a couple of tries, you'll have to rub the spot with a fine abrasive and some type of lubricant.
If you have any further questions regarding tabletop repair and maintenance please do not hesitate to contact us.  Finally, if you need an expert that is local and does professional furniture restoration, we would love to be of service to you!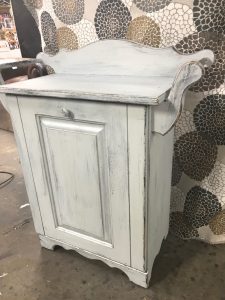 Are you looking for local furniture repair and restoration? Foxwood Restoration provides residential and commercial furniture repair restoration services for fire or water damage to furniture. Whether it is your home or your office, Foxwood Restoration provides an affordable alternative to replacing your furniture. We offer fine furniture and antique repairs stripping and refinishing, as well as faux and custom painting of furniture, hand, and machine cane replacement, rush and reweaving of chairs, and our expert staff can repair, refinish, and restore all of your damaged antique furniture to its former glory!
Chair Furniture Repair and Restoration
We specialize in wood and furniture repair for antiques as well as full reupholstery. So, if you have an old chair that needs it's old spark back or a couch with frayed fabric, we've got your back! Also, we specialize in furniture repairs. We can fix broken chair legs or poor framing. Our goal is to restore your antique furniture back to the original patina and integrity of the piece.
Contact
We have been serving the Livingston, Macomb, and Oakland counties for over 25 years. Furthermore, Foxwood is an  insurance claim specialist when it comes to navigating through your homeowners insurance loss. We have worked with numerous insurance companies such as Allstate, Auto Owners, Farm Bureau Farmers, Frankenmuth Insurance Move, Nationwide, Pioneer Prudential, State Farmers, and many others!
If you are interested in any of our restoration or repair services, visit our large showroom today! The best part about choosing us, we are easy to find! We are right off of East Grand River Ave. We are located at 9894 Weber St, Brighton, MI 48116.  You can give us contact us at 810-220-0123, or use our easy estimate form. In addition, we strive to restore your furniture to the beautiful piece it once was. When it comes to furniture repair restoration, the best in the state of Michigan is Foxwood Restorations.