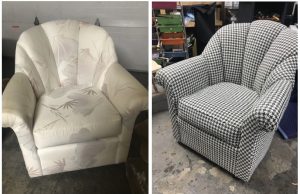 Here at Foxwood, we have experience when it comes to furniture repair and restoration in Ann Arbor and around Southeastern Michigan. For decades, people within the community have trusted us with their most treasured furniture pieces. We preserve the sentimental value while also restoring furniture to its former glory. 
Samantha's Furniture Repair Story
Just recently, we restored a channel back upholstered chair for Samantha of Ann Arbor, Michigan. Samantha wanted to give her old chair a fresh new look while maintaining its original character and history. It was a strong and comfortable chair with a swivel. The channel back chair was sentimental to Samantha as it had been used by her three young children who loved to play and spin on the swiveling chair. All three of her children had grown up playing and having fun on the comfortable chair. 
Unfortunately, the chair was starting to show its age through matted upholstery and a faded design pattern. Samantha knew she had to find a reliable company to fix the problems and save the history stored in that chair. It was only when she was moving to a country property in the area of Ypsilanti that she decided to have the chair reupholstered here at Foxwood. Not only did she want to chair to be reupholstered, but she also wanted to give the comfortable chair an updated look. Fortunately, we were able to reupholster the chair and add a new fabric that Samantha chose. The end product was a fine-quality chair with a fresh new look that Samantha could be proud of. 
In addition, Samantha was so happy with her restored chair that she referred some of her friends from Saline,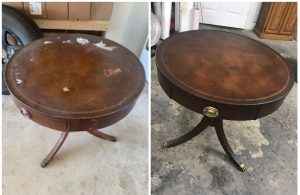 Michigan! They wanted to have the wood refinishing done to their full dining room table set. We were able to refinish the table, chairs, and hutch to restore the youth and beauty of the wood.
Looking for more storage in your backyard? Visit Lakeside Cabins and Sheds for quality built sheds.
Furniture Restoration in Ann Arbor, Michigan
Foxwood Restorations is a high-end restoration furniture company with all of your furniture needs in one large industrial building. Call us today at 810-220-0123 to restore your most prized sentimental furniture from your great grandma and grandpa! Furniture from the past is all we can leave behind for our loved family members. By getting your favorite furniture repaired by us, you can ensure that the piece can be passed down through the generations. Contact us today to find out more about Ann Arbor furniture repair!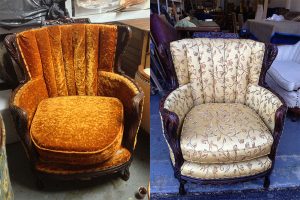 Many of us have that old piece of furniture that needs to be replaced. That old table or sofa has seen better days and is now taking up space. Thankfully, you don't have to replace it! Bring your old furniture to Foxwood for furniture restoration or repair and reap the benefits for years to come!
Restoring Over Buying
There are many advantages to restoring furniture over buying new furniture. Old furniture was made to last, unlike some of the Swedish cheap furniture that you find today. Furniture just isn't made to the high quality it used to be. By repairing and restoring an old piece, you can add years to the use of the piece. 
Some pieces of furniture have history and sentimental value that you won't find in a new piece. Whether that be your grandmother's old rocking chair or the cabinet you received as a wedding gift, some things cannot be replaced. Instead of losing these memories, you can bring your piece to Foxwood and have it restored to its former glory.
Disposing of your furniture whenever it loses its charm or function is wasteful. When disposing of an object that can be salvaged, you enlarge your carbon footprint and risk being environmentally harmful. You can avoid negatively affecting the environment and be eco-friendly by restoring your piece. We can restore your furniture and refresh the style by staining or reupholstery. 
Furniture Restoration near Ann Arbor
Here at Foxwood Restorations, we have been repairing and restoring furniture in and around Ann Arbor for over 30 years. With years of experience in helping people repair and reface their old furniture, we are the best choice for any furniture restoration project. Furthermore, we offer a full line of fabrics for our reupholstery services and a large selection of stains for wood restoration and refinishing. I think we've made the case for restoring furniture over buying so Contact us today online or call our local Ann Arbor number at 734-237-9099.
Pieces of antique furniture face a lot through the years, especially cabinetry. The handles break, the wood chips, and the color fades. But, there are some do-it-yourself steps to take to restore your antique china cabinet to its former glory. 
DIY Tips to Restore Your China Cabinet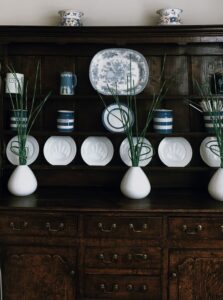 Know what you want your finished piece to look like. Before you even consider sanding the wood to refinish or paint, you should have an idea of what you want your finished china cabinet to look like. Make sure you have a varnish or color in mind before you dive into the project.
Clean the furniture thoroughly. A loose piece of lint or a small cobweb could ruin the piece if it dries to the wood with the varnish. Before you start sanding, clean the entire piece to get rid of any dust, pet hairs, and cobwebs. This will make the restoration much simpler.
Repair any broken parts. You cannot continue with your restoration if you have broken handles, chipped wood, or other issues because they will stick out of a restored piece. Make sure you check for any issues before you continue.
Take off the old finish and sand the wood. Removing the finish evenly is the most important part as this makes or breaks a restoration. By sanding the wood, you can ensure that all of the past finish is off and the wood is ready to paint or refinish. 
Get Your Furniture Restored by Foxwood Restorations!
If you don't have the time or experience to restore your antique china cabinet, let us do it for you! We have 30 years of experience working on wood and upholstered antique furniture. Contact us today and request a free quote on our restoration services! We service people in Brighton, Ann Arbor, and the rest of Southeast Michigan!

Here at Foxwood Restoration, we would like to share a story about Sharen and her furniture from Ann Arbor. Sharon grew up in Ann Arbor, Michigan and was an only child. Her mother was an accountant and also a single parent. Sharen was an only child and very close to her mother. After getting her degree in social work, Sharen moved to Saline, Michigan.  Sharen's mom Julie, continued to do accounting work out of her home office until she got dementia.
At this time, Sharon had to move her mother over to a nursing home in Ann Arbor. IN addition, to keep as much familiarity with items around her mother as possible, Sharen decided to keep and reupholster all 5 chairs of her mother's furniture.  By this time, her mother had developed incontinence. All of her furniture would have to be recovered in vinyl so it can be easily cleaned. Sharen wanted to keep the same original colors of the furniture that her mother Julie could feel some familiarity with the furniture. That is exactly what Foxwood Restorations did.
Furniture From Ann Arbor Restorations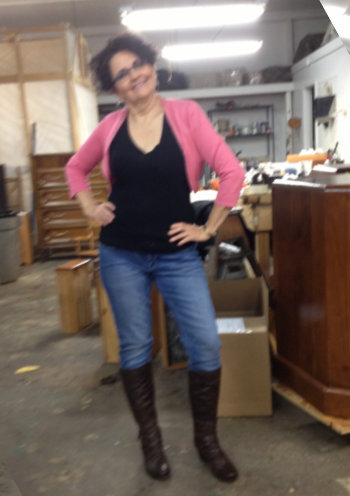 This is just one example of some of the restoring and reupholstering work we do for people in Ann Arbor. Of course, we also serve Saline, Brighton, and all the surrounding cities as well. If you have furniture you would like to restore to its former glory contact us today. You can also give us a call at Brighton: 810-220-0123, Ann Arbor: 734-237-9099, anytime. Our experienced staff can help you decide on the right materials for your furniture and which options are best.
If you would like to give a new look to your furniture this holiday season, contact us today! From chairs, tables, desks, ottomans, you name it, if it is furniture we can restore it!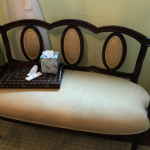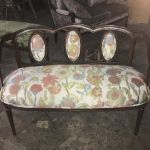 We'd like to share a little story on a recent furniture restoration project that we did for this very nice couple that moved to Ann Arbor. As you may know, Ann Arbor is a close-knit community with some beautiful older homes. Valerie and her husband had lived in the same spacious home for over 30 years. But as they grew older, they realized that it was time to retire and downsize their home. They wanted to look for a smaller home in the city of Ann Arbor, a city close to each of their hearts. Valerie and her husband met at the University of Michigan in Ann Arbor years ago. And so, they decided to move back to the city that they held such warm feelings for.
Moving to Ann Arbor
 Valerie had a favorite designer that she had worked on and off with for many years.  She asked her designer to help her find a new home in Ann Arbor that would make her and her husband feel at home. This was not an easy task as they had lived in the same house for such a long time. After a long time of searching, Valerie and her husband found a house that caught their fancy. The quaint house was a vintage Ann Arbor style made of brick that had a stately curb appeal and it was in a well-established neighborhood. However, the large backyard was overgrown and the house had not been updated for over 20 years!
Victorian Style OttomanThe designer had a lot of work to do to get the home how they knew Valerie and her husband wanted it. Walls were moved, bathrooms were gutted and a brand-new kitchen was remodeled to blend into the family room. After many months of construction, the house was transformed and ready to move into.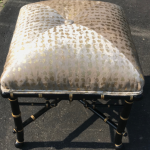 Then came the need for furniture. Valerie and her husband had become very comfortable with their older, more high-quality furniture. It was the kind of furniture that was built to last with comfort and quality construction. Also, they really enjoyed the sit of the chairs, the back support, and the sizing of the furniture. But, the furniture didn't match the design of their new home. 
Taking Their Furniture to Foxwood
And so, the decision was made to get all of their favorite furniture reupholstered and delivered to their new home. The designer brought fabrics to Valerie that they knew that she would love as well as match the décor of drapes, rugs, and the new colors in the newly remodeled home. Once Valerie chose her fabrics, the designer took her selections to Foxwood Furniture Restorations near Ann Arbor (us). They needed a local furniture restoration & upholstery company that they could go to for high-quality work and timely delivery.
All of the furniture was picked up by our considerate and skilled pick-up and delivery service. The chairs were recovered with care and experienced workmanship.  Seat cushions and back supports were made more firm and full or replaced when necessary. All of the inner springs were adjusted for tightness and any repairs necessary were done with old-world craftsmanship. The furniture was then stored in Foxwood's temperature-controlled facility, protected and wrapped.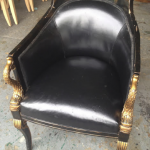 When their Ann Arbor home was complete, the chairs were delivered to Valerie's new home in Ann Arbor to be placed exactly where the designer told them to be placed. The newly upholstered furniture was the final addition to the beautiful remodeled Ann Arbor heritage home. The furniture provided the home with warmth and character. All of us at Foxwood are proud to be a part of their journey.
Upholstery & Furniture Restoration Services in Ann Arbor
Foxwood Restoration offers a full line of fabrics,  re-upholstery services,  furniture repairs, full wood restoration and refinishing. Also, we now have a pick-up and delivery service that works to your schedule! We will transport your furniture because we understand that YOU are busy! With professionalism and care, we will take care of your precious furniture. In Ann Arbor, Michigan please contact us or call our local number at: 734-237-9099